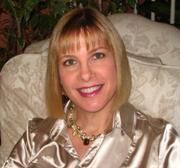 Happy Halloween!
My second guest this Halloween weekend is author
Terri Garey
!
She knows alot about the paranormal and loves Halloween! Her newest book in the Nicki Styx series 'Silent Night, Haunted Night' is out now!
Here is a new interview with Terri and she is giving away some prizes! So make sure you enter the contest at the end!
------------------------------------
Amber - It is Halloween and it is great to have you back on Amberkatze's Book Blog again! You have a new Nicki Styx book out! Can you tell us a little about what Nicki gets up to this time?

Terri - Hi, Amber! How could I not return to your blog on Halloween? You're the only person I know (besides me) who keeps her blog decorated for Halloween all year long! We ghouls need to stick together!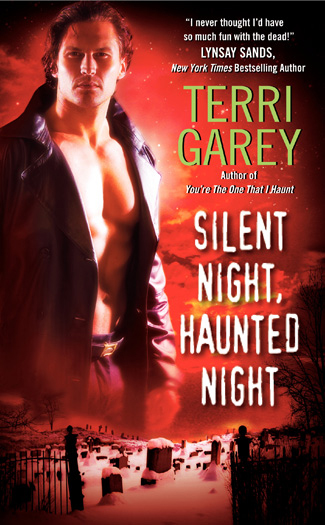 In Silent Night, Haunted Night, the Three Fates are out to teach Nicki Styx a lesson by sending a succubus to enthrall Joe Bascombe, the man she loves, and draw him down into darkness. It's a new twist on the Charles Dickens classic, A Christmas Carol, and shows how the choices you make can really come back to haunt you — Nicki Styx style.

Amber - Silent Night, Haunted Night is the fourth book in the series. Is it getting easier or harder to write about Nicki?

Terri - Easier. I know her so well now.

Amber - What kind of research have you had to do for the books so far? Anything interesting or is research boring?

Terri – I LOVE research, and mine is never boring! Over the course of four books, I've had to do research into voodoo, hauntings, paranormal activity, near-death experiences, Wicca, Tarot cards, the Ouija board, demonic possession, myths, legends and Biblical stories from the Old Testament. I have a healthy respect for the paranormal and I try to approach everything with an open mind. Some of these things truly scare me, particularly the Ouija, and anything to do with voodoo or possession. I'm fascinated by these topics, but I do not advocate dabbling in them! Basically, I'm a big chicken when it comes to the paranormal. 

Amber - How many more books will there be in the series? Are you working on any other projects you would like to tell us about?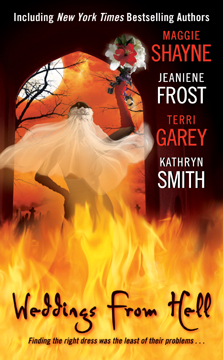 Terri – Silent Night, Haunted Night will be the last story told from Nicki Styx's viewpoint, at least for now. The series is not dead, however, as it will continue from the viewpoint of one of my most asked-about characters, Sammy (Satan) Divine. I love the character of Sammy, and so does my publisher, so I'm really excited to announce a new series based on the world's most diabolically misunderstood bad boy—The Devil's Bargain and The Devil's Disciple will be released by Avon in 2011! Sammy finally gets a chance to tell his side of the story, and a dark, sexy story it is, too, because he is one dark, sexy guy!

The Devil's Bargain will pick up where Silent Night, Haunted Night leaves off, as Samael the Fallen takes on the job for which he was originally created — that of a guardian angel. Finally offered a chance to step into the Light, will he take it, or remain forever trapped by the Darkness he himself created?

I can't wait for you guys to read it.

Amber - Something I have always wondered about is how authors come up with the names for their characters. How do you pick the names you use in your books? After all Nicki Styx is a really interesting name!

Terri – Names are so important. I had an image of Nicki in my head, and knew I wanted her name to portray someone free-spirited and bit wild, yet related somehow to mythology related to the dead. The river Styx is the dark river in Greek mythology that separates the living from the dead (don't pay the ferryman until he gets you to the other side!), and I thought it'd make a great last name. As soon as I thought of that, her first name became obvious – as a child of the 80's and former Motley Crue fan, Nikki Sixx popped into my head, and Nicki Styx was born. I knew immediately that with a name like that, she'd turn out to be a great character.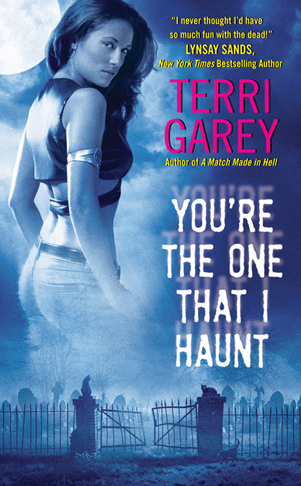 Amber - You have some really nice covers for your books but the style changed with 'You're the One That I Haunt'. Did you have any say in the change? Do you like the new look?

Terri – No, I had no say in the change, but my publisher stayed true to the original concept, which was slightly spooky covers with a graveyard in the background. I've been lucky enough to love all my covers, despite the change from hand drawn art to hunkalicious guys like the one on the cover of Silent Night, Haunted Night. 

Amber - What is the easiest and hardest part about being an author?

Terri – The easiest part is that my time is my own – I don't have to get up and drive to work for someone else every day, as I did for many years. The hardest part is that my time is my own, and I'm accountable to no one except myself and the keyboard, which means it's too easy to get distracted! Nobody to crack that whip except yourself, and those deadlines…

Amber – A lot of authors have 'soundtracks' for their books. Is there any music influenced your books?

Terri - Ooo, great question! Music definitely influences my work, although I never listen to it while I'm working! (I need quiet to concentrate on the flow of words.) My musical tastes are very eclectic, and I like a wide variety of artists – my Ipod is full of of songs by Sisters of Mercy, the Cure, Elvis Costello, Audioslave, Godsmack, Santana, and Evanescence, all of which I listen to every morning during a three mile walk. Gets me warmed up for writing!

Concrete Blonde's "Dance Along the Edge" would be the perfect theme song for Nicki Styx if they ever made a TV series out of it, but the high point of my musical/writing life came this summer when Finnish goth-n-rollers, The 69 Eyes, released their newest CD, which features the song "DEAD GIRLS ARE EASY". Their lead singer emailed me and told me the song had been inspired by the book. Here's a picture of us both together, with Jyrki holding the book I had him sign (yes, I had him sign MY book!):  They even made a music video which debuted in July on Playboy.com! Love the song, and the band!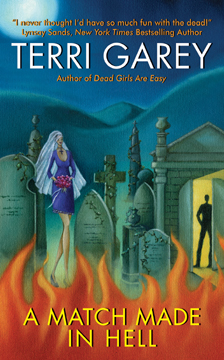 Amber - There are so many online sites eg, Twitter, Facebook, Myspace
etc. to get in touch with fans. Which sites are you signed up with? Is it hard to keep up with them all? Do you think they are good?

Terri – I have a personal blog, a joint blog with some writing pals, a blog at HarperCollins (my publisher) a MySpace page, a Facebook fan page, a personal Facebook page, and I'm on Twitter. I try my best to keep up, but it's hard – I have no idea which is the best, although my personal Facebook page and MySpace seem to get the most activity.

Amber - What was the last movie you watched? and the last Book you read?
and did you enjoy them?

Terri – The last movie I truly enjoyed was the new Star Trek – loved it! The last book I read was Darkfever, by Karen Moning. I read a lot, and like my taste in music, my taste in books is very eclectic – I love historicals from any era, as well as urban fantasy, but am always just looking to be told a good story, whether it's by Anne Rice or Georgette Heyer.

Amber - If you could be any paranormal creature, what would you be and why?

Terri - Well, I would say "ghost", but I actually think that would be a very lonely existence if you could see and hear everyone but they couldn't see you. Vampires are out because blood is… well, blood … and I don't care for hairy men so that leaves out werewolves. A fairy, perhaps? They get to fly, and they're surrounded by nature, so yes, a fairy.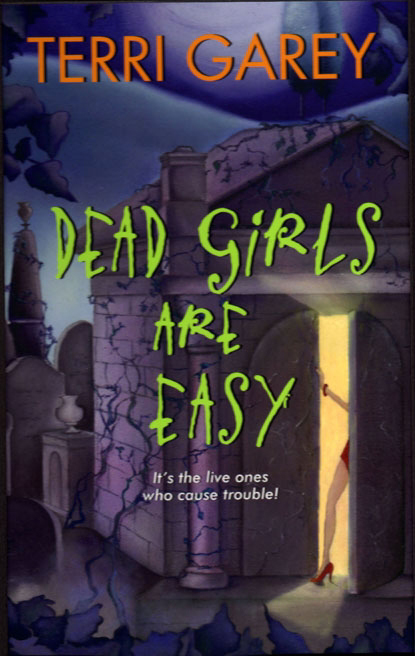 Amber - What are you up to this Halloween?

Terri - Bwahahaha…… working on the graveyard day by day! I go all out on Halloween (it's almost embarrassing), turning my yard into a graveyard, my garden shed into a witch's hut, and my front porch into a spider's lair. We live in a neighborhood with tons of kids, and give out more candy and boo!'s than you can imagine. It's great fun!

Amber - Thank you for visiting Amberkatze's Book Blog again! I look forward to seeing you here again! ;)

Terri - Thanks for having me, Amber. I'll be giving away two signed books, each with a beaded bookmark.
--------------
Contest Time!
As you may have read in the interview, Terri is giving away two signed copies of Silent Night, Haunted Night, her new book! That means two winners will get Terri's latest release and she is going to add a beaded bookmark! (see pic)
All you have to do to enter this contest is tell us what you are doing this Halloween!
No Story = No entry!
The usual rules apply!
Earn another entry for each place you link this contest on the net. Make sure you add links here for me to confirm your entries!
You can also earn extra entries by emailing your friends about the contest. Just make sure you send a copy of your email or receipt to me at Amberkatzes_book_blog at gmx dot net.
I can offer more prizes if my Amazon Associates account gets more money!! So please make sure you order at Amazon.com through the links around the site and help keep the contest coming!
The contest will stay open until Sunday 8th of November 2009 4pm CET and the winner will be picked by a randomizer. Entrants should check back to see if they have won. I do not hunt down winners and will pick new winners for any prizes not claimed within 7 days.
If you are claiming a prize, have emailed me and have not heard back before the 7 day limit is up then post a comment here on the blog. Your email may get sucked into my spam filter.