This week I have two author guests. Todays guest is no stranger to Amberkatze's Book Blog and was already
a guest here back in June
. I was introduced to Stephen by author
Shirley Damsgaard
and we have been in touch ever since.
So please give a Stephen a warm welcome! I hope you will all enjoy the interview and enter the the contest. Stephen has put together an amazing prize package so please don't fight! ;)
----------------------
Amber - Stephen! It is so nice of you to be a guest again on
Amberkatze's
Book Blog
! Maybe you can start things off by telling my readers about your
next book in The Rising Dawn Saga?
Stephen -– Hi Amber! It is great to be back on
Amberkatze's Book Blog
, which I consider to be one of my virtual homes now!
2009 was definitely a very busy year, with the launching of both of my fantasy series. The Exodus Gate hit the streets in March of last year, launching The Rising Dawn Saga, and Crown of Vengeance came out in November, kicking off the Fires in Eden Series. Mixed with those releases were a bunch of live events and appearances at conventions and bookstores, which made for an incredibly busy year. And we haven't paused! 2010 is rolling full steam ahead.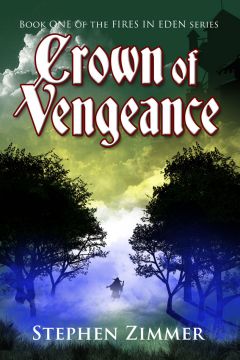 My publisher and I are dedicated to getting a new book out in each series roughly every year. Fans of either series will not be kept waiting long, and fans of both series get a new book every 6-7 months! The next book in the Rising Dawn Saga is slated for around May of 2010. We have a big launch planned at Hypericon, a great fantasy and sci-fi convention in Nashville, Tennessee, June 4-6 (and the guest of honor this year is Ramsey Campbell, which is really exciting!), followed by a Davis-Kidd bookstore appearance in Memphis that following Monday, June 7th. It will definitely be a big weekend.
Those that have read The Exodus Gate know that it is a foundational book for a large, epic fantasy series set in the modern day (in a parallel world very similar to our own … parallel worlds and existences have a part to play in this series!)
The 2nd book, which is as of yet untitled, hits the ground racing! Lots of exciting stuff regarding the An-Ki, the Nephilim, the Convergence, and even an enormous battle in the afterworld (involving everything from the small, fairy-like Peris to titanic High Avatars). The depth and breadth of the Rising Saga expand a lot more with this one. As I have promised, the story builds on the foundation of the first book, expanding the scope while keeping the story threads very tight. I am very confident that readers of the series will be very excited about the future titles in the series when they see how I build from the first book into the second. I predict a similar dynamic for those who enjoy the more medieval type fantasy of my Fires in Eden series, the second book of which will be out towards the end of 2010.
Amber - How many more books will there be in the series? How long would you like to see The Rising Dawn Saga run?
Stephen –- Amanda DeBord, my wondrous editor, and I have discussed this a few times. I do not want a series that stretches on forever, but it does entail too much material for a quadrology. My guess, based on how Amanda cuts the material, is that it will be 6-7 books in all. This is about the same length for the medieval fantasy series I have, Fires in Eden.
Amber - A question I have been asking writers is how they pick the names for their characters. So tell me, how do you pick yours and do any of them have a story behind them?
Stephen - I often have meanings woven into character names, based in the name itself, or perhaps making an allusion to a historical reference.
Take for instance Janus Roland, one of the main characters in Crown of Vengeance, from my new Fires in Eden series. Janus, of course, is the name of a Roman god symbolized by the depiction of two faces looking in opposite directions, who is the god of beginnings and endings, gates and doorways.
The last name of Roland derives from the epic tragedy Song of Roland, which tells the tale one of Charlemagne's warriors who fights heroically against impossible odds, when ambushed on his way back from a war campaign.
Without giving too much away, Janus Roland's very name gives hints as to the role that he will play in this series, and hints about the series itself.
Another example is Mershad Shahab, a young muslim fellow in Crown of Vengeance, who is a first generation American in his family. The name Shahab comes from the Farsi word for "shooting star", and the element of something meteoric contains symbolism related to the character arc for Mershad in this series.
If readers like depth, there are layers everywhere in my books for them to explore.
Amber - Are you working on any other projects or is the The Rising Dawn Saga keeping you busy enough? ;)
Stephen –- I may have a short story or two involved in some anthologies in the coming year, but the main focus writing-wise is definitely on The Rising Dawn Saga and Crown of Vengeance.
I have been developing and writing both series since the mid 1990's, so I have a lot of material and depth built already. This is what enables us to have the kind of schedule that we do with my publisher. The drafts are there for the first few volumes. They simply need to go to Amanda's desk for her insightful editing, and then some touching up and a little rewriting by me!
On the film side of things, I will be directing one short film based upon a segment of H. David Blalock's outstanding fantasy novel Ascendant. It will have a great production value and will shoot in the early summer of 2010. I am working with some real special effects wizards from Cineline Productions, as well as a great up-and-coming cinematographer, Aaron Champion.
I am also in development on an original feature, based on a screenplay I wrote, that is set in the Viking age.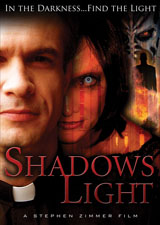 Amber - What is the easiest and hardest part about being an author?
Stephen –- The easiest part is immersing into the fantasy worlds as you write them. That is an absolute blast for me, as I really do see the events unfolding in my head and write them down as if I am an observer! Letting my imagination run rampant is what I enjoy most.
The hardest part is simply maintaining the energy and constant organization necessary for supporting the book releases, in terms of travel, press, and the like. I am dedicated to keeping up a year-round schedule and I am very focused on meeting readers in person, making myself available to events and conventions, and other such activities, but it can be a very exhausting process, especially when you have to conserve resources as tightly as I do as a small press author.
Needless to say, if you look at
my appearance schedule
, it is as active and busy as an author on a big publishing house's roster. I think this sends a very strong message to my readers and my publisher that I am 125% committed to them, to interacting with them, and to do everything that I possibly can to support and promote my work. I'm in this for the long haul and giving it everything I''ve got.
Amber - How much say do you have as an author when your book is being published? Do you choose the cover? Get a say in the format?
Stephen –- This is the ONE big advantage of being on a small press. I do get a lot of input on the cover design, in ways that authors with large publishers do not. I work very well with Matthew Perry, the fantasy artist that did the 15 full page illustrations and cover art in The Exodus Gate, and the 10 full page illustrations and cover art in Crown of Vengeance (
visit Matt's work
and commission him!)
I try to respect the artist's interpretation as much as possible, making suggestions only when there is a significant conflict with what is in the text of the book. The illustrations and cover art, I believe, turned out wonderfully and I can't wait to work with Matt again and again.
As far as formats go, my publisher is dedicated to putting out a trade paperback, a hardcover, and a Kindle/eBook version of my work, which is more than satisfactory to me!
Amber - What are you reading, watching and listening to lately? Any recommendations?
Stephen -– While Avatar is certainly a visual spectacle, there are 2 movies that are rich in substance that I have seen recently. One is Extraordinary Measures, which really got the science/funding/research culture spot-on. This one hit me very personally as my own father was a maverick cancer researcher who endured a lot of struggle, because he was way ahead of the curve in his area of research, and his vision was met with skepticism and worse. I really could relate to the Dr. Stonehill character, and they did a great job of portraying a dedicated researcher. The movie is very substantive and important for many reasons, as well as being a powerful drama. Peter Jackson's The Lovely Bones is also a must see, as far as movies go.
Bookwise, I have been delving back into Robert E. Howard quite a bit lately, with his famous Conan the Barbarian short stories, which has been incredibly fun. By the time that this interview is posted, I will have my copy of Shirley Damsgaard's The Seventh Witch, her newest book, which is next up on my reading list (it's going right to the top of my to-be-read pile!).
I am always reading history, especially medieval history or books on the mythic or mystical.
I have been reading a lot of fantastic small press releases in the recent past, having made many great discoveries at the conventions and events that I have been attending, such as Jackie Gamber's Redheart, Elizabeth Donald's The Cold Ones, H. David Blalock's Ascendant (which I just committed to doing a short film for, as a director, concerning a major segment of the book). D.A. Adams, Maurice Broaddus, Apex Publication's new Harland County Horrors anthology (edited by Mari Adkins), Steven Shrewsbury, Jon Klement, Lettie Prell, Crymsyn Hart, Sara Harvey, TammyJo Eckhart… and several other very gifted authors out there that are absolute gems waiting for a broad readership to discover. Truly, check these writers out, folks! Small Press really is booming right now, with the major publishers shrinking their catalogs and rosters, and there's a rich amount of material for readers to discover! Small Press is where bigger chances and risks are being taken in the horror/fantasy/sci-fi genres.
Amber - There are so many online sites eg, Twitter, Facebook, Myspace etc. to get in touch with fans. Which sites are you signed up with? Is it hard to keep up with them all? Do you think they are good?
Stephen - Yes, they are very good, but they are a challenge to keep up with, especially on the really busy days. Yet they are a necessary thing.
All of these social networking mediums are great channels for readers and authors to interact on, and I try to keep up with my FaceBook Page and MySpace page as much as possible. I do not have Twitter yet, as I have enough trouble keeping up with the other two!
My Facebook page
and
my MySpace
page is similar, at If you are on one of these networks, be sure to add me!
Amber - If you could be any famous person, alive or dead, who would you be? and why?
Stephen -– Probably the apostle John, so I could get a first-hand experience of some rather momentous events of 2,000 years ago in the Middle East, and find out just how the Book of Revelations came about! I am always fascinated with apocalyptic stories, I suppose!
Amber - Thank you again for being a guest on
Amberkatze's Book Blog
! I hope you will stop by again soon!
Stephen - Thank you, Amber, and I look forward to catching up with you again in the early summer! Or anytime you want me around, for that matter! The road that I am on is not easy, and
Amberkatze's Book Blog
will always have a very special place and top priority with me!
-------------------------
Contest Time!
As I already mentioned above, Stephen is giving away a great prize package. Here is what you could win -
The package will contain a 14 x 20 poster of the cover art, a personalized, signed copy of Crown of Vengeance, a set of 9 art cards from CoV, bookmarks, and a glossy 8 x 10 of the cover art.
Oh and the contest is open for all participants internationally.
A huge thank you to Stephen for putting together such a great prize! How do you enter? Well all I want you to tell us this week is what you have been watching recently. It could be something you are watching on TV or something you saw in the cinema lately. I am interested in what all you readers put down your books to watch ;)
No Series/Movie = No entry!
Earn another entry for each place you link this contest on the net. You can post of Facebook, Twitter & MySpace but make sure you add links here for me to confirm your entries!
You can also earn extra entries by emailing your friends about the contest. Just make sure you send a copy of your email or receipt to me at Amberkatzes_book_blog at gmx dot net.
Keep the contests going by using the Amazon links below and around the site!
The contest will stay open until Sunday 14th of February 2010 4pm CET and the winner will be picked by a randomizer. Entrants should check back to see if they have won. I do not hunt down winners and will pick new winners for any prizes not claimed within 7 days.
Good Luck!