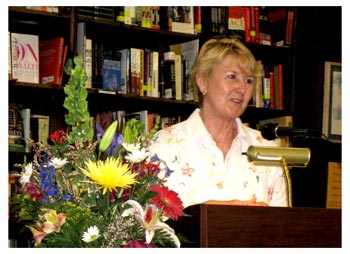 Author
Jeanne C. Stein
writes one of my favourite Urban Fantasy series, The Anna Strong Chronicles. I wait patiently each year for the new release and enjoy every word.
Chosen, book six in the series, is due for release on the 31st of August and I can't wait! So I asked Jeanne is she would stop by Amberkatze's book blog again to talk about the upcoming release and a little about what she has been up to lately. Here is the interview, which I hope you will all enjoy!
Oh and Jeanne is being very generous and is offering THREE prizes!! So three luckly readers could win an amazing prize package. Make sure you enter the contest!
-----------------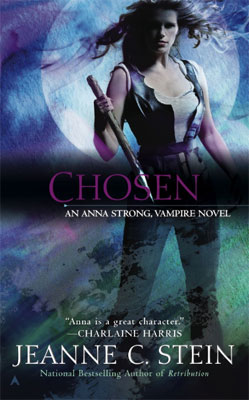 Amber - Welcome back to Amberkatze's Book Blog! A new Anna Strong book is coming out soon! Please start things off by telling us a bit about the new installment?
Jeanne -– Chosen completes Anna's first year as a vampire. On the anniversary of her becoming, the prophecy of the "Chosen One" is fulfilled. Before that, though, there are a few other surprises in store for Anna—and not pleasant ones.
Amber - Chosen is book six in the series and last time you were here you said their would be a seventh book. Is that still the case? and will there be an eighth?
Jeanne –- Hopefully! I've finished book seven, Crossroads, and am contracted for book eight.
Amber - How long on average does it take you to write an Anna Strong book? Do you have a process you follow? or do you just start at page one and see what happens?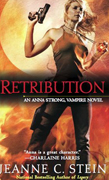 Jeanne –- From the first musings to completed manuscript takes about nine months. I wish I could turn out books faster. I'm in awe of writers who do three or four books a year. It's all I can do to turn out a book, a story or two for anthologies and keep up with the marketing stuff in year. Traveling takes up a lot of time, too.
But as for process, I generally spend some time just thinking about the theme of a new book, kicking around ideas in my head, brainstorming with my critique partners and husband. Then I do a rough synopsis (which I very seldom end up following) but after that, the writing begins.
Amber - Anna has seen a lot of paranormal action so far. How do you decide what to throw at her in each book?
Jeanne –- Sometimes things just fall into place but often I try to shake things up by adding a new element to surprise my readers. Jill Smith, a reviewer for RT Book Review Magazine, said that in Chosen, I reveal some critical answers and deliver some devastating blows! Anna doesn't have it easy in this one.
Amber - It has been a year since the last Anna Strong book came out. What have you been doing with your time except for writing?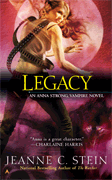 Jeanne – I touched on that earlier. I work harder now than I ever did in a nine-to-five job but I love it. Besides marketing stuff, travel and trying to have some kind of real life, answering email also takes up a couple of hours a day.
Amber - Are you working on any other projects or do you have any other upcoming releases you would like to tell us about?
Jeanne -– I finished a novella for an anthology called "Hexed" which Penguin will publish next year. I also have an Anna story coming up in a Tor anthology called "Chicks Kick Ass" and a non-fiction piece for a work called "Whedonistas." All will be published in 2011.
Amber - There has been quite a lot of Paranormal TV series and Films to hit the screens lately. Why do you think that is? Would you like to see Anna come to life in the same way?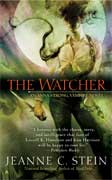 Jeanne -– I think we see a resurgence of interest in the paranormal or magical worlds whenever our real world is in flux. We like reading about an ordered world where superheroes save the day when we have no control over our own. I also think it's a reflection of all the great books being published. And of course, I'd be thrilled to see Anna on the big or small screen.
Amber - Team Edward or Jacob? Team Bill or Eric? Or don't you care one way or another? ;)
Jeanne -– Definitely team Eric. As for the other, I'm not a big fan so I can't comment.
Amber - What have you been reading and watching lately? Do you have any recommendations for us?
Jeanne –- I'm a member of the League of Reluctant Adults and between the twenty authors on that loop there's always a TBR pile beside my bed. Check it out on:
http://reluctantadults.blogspot.com/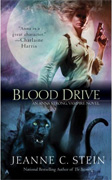 As for television, I'm waiting for the fall season of Smallville, Supernatural, Dexter. Of course, True Blood is on my watch list. And I start each day watching an episode of Buffy or Angel. I know how geeky that sounds but watching Joss Whedon work his magic inspires me.
Amber - If you were a superhero, what powers would you want? Or would you be a villain?
Jeanne – A villain? Never. I'd fight just like Anna does to keep those I love from harm. I think it would be cool to be able to fly. No more standing in security lines at crowded airports! I wonder. Do you think Superman carries his luggage or sends it ahead when he goes on vacation?
Amber - Thanks for visiting Amberkatze's Book Blog again!
Jeanne -– thanks for having me. Always a pleasure!
---------------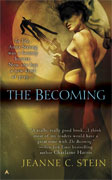 Contest Time!
Jeanne is being very generous and is offering three prize packages which will include a book, magnets and some other surprises! The book will be the winners choice and can be any of the Anna Strong books. This means you can start the series if you haven't already, get the one you are missing or get the new release when it comes out!
How To Enter
Go over to the
League of Reluctant Adults
and check out the authors. Then come back here and either list your three favourite authors who blog there or/and three books you have added to your wishlist because of your visit to the site :)
No author or/and books = No Entry
Earn more entries for each link you place about this contest on the net. You can post on Facebook, Twitter & MySpace but make sure you add links here for me to confirm your entries! However please do not make individual postings for each entry. Please post all your entries in one post.
Advertise Amberkatze's Book Blog on your site and get an extra entry for this and every other contest!
You can also earn extra entries by emailing your friends about the contest. Just make sure you send a copy of your email or receipt to me at Amberkatzes_book_blog at gmx dot net.
Make sure you post your links here so I can confirm your entries.
Keep the contests going by using the Bookdepository.com links/Banners below and around the site!
The contest will stay open until Sunday 29th of August 2010 4pm CET and the winner will be picked by a randomizer. Entrants should check back to see if they have won. I do not hunt down winners and will pick new winners for any prizes not claimed within 7 days.