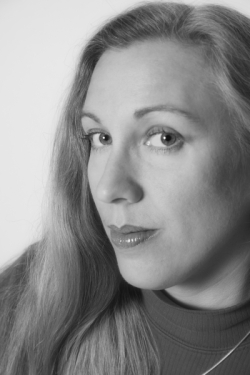 This week I am very excited to have author Kat Richardson as my guest. I have been reading her Greywalker series since the first book, Greywalker, came out back in 2007. Since then I have been waiting patiently after every book for the next part in the Harper Blaine story. This week, Labyrinth, book #5 is out and I can't wait for my copy to arrive!
If you haven't already tried this original paranormal delight of a series then you have been seriously missing out! Get to know Kat and Harper in the following interview and make sure you enter the contest to win your own copy of Labyrinth!
Oh and check out the Greywalker series! You won't regret it! :)
-----------------------
Amber - Welcome to Amberkatze's Book Blog! It is great to have you back here on the blog again! Could you start things off by telling my readers a little about your Greywalker Series?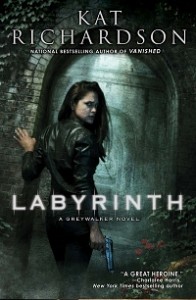 Kat - I call it a "paranormal detective series" or "detective with ghosts and monsters". Essentially the protagonist, Harper Blaine, is a professional private investigator who can see and move in the world between the normal and the paranormal which enables her to interact with ghosts, monsters, and magic. That talent brings her a lot of unusal cases which she solves with a combination of investigative skill and magical manipulation.
Amber - The newest installment, Labyrinth, is just out. What can readers expect from the new book?
Kat - Labyrinth is the wrap-up of the action that started about mid-way through the previous book, VANISHED. It's also the big answer to Harper's long term question "why me, what am I meant to do with this power?" I don't want to spoiler too much, but this book not only wraps up her biggest questions, it also wraps up a lot of the vampire threads. Not that there will be no more vampires in the series, but they'll be less central for a while.
Amber - Harper has had a lot of paranormal adventures so far. How do you decide what to throw at her in each book?
Kat - I have a lot of ideas and so I latch onto a legend or a historical oddity or an area and start poking around, looking for cool stories or bits of history. Then I start weaving the pieces together with some kind of detective story structure and see what comes out. I usually start with a lot of reasearch, a vague idea, and an outline, then I add in more and more crazy stuff as I write. I like to go places and see what strange information comes to light or what strange things I can see that might make cool story bits.
Amber - Labyrinth is a really cool title and it doesn't give much away. How do you come up with the titles for your books? Do you always go with the first title or is it hard to come up with the right one?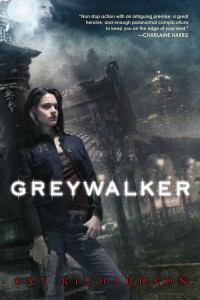 Kat - The first three were my original titles, but the later ones are not. They've all been one-word titles because the marketing office at my publisher liked that and the first two manuscripts had one-word titles to begin with. Except for changing Underground City to UNDERGROUND, the first three remained the titles I gave the manuscripts, though sometimes we've had to negotiate a little. Until now. LABYRINTH wasn't my first title; the original proposal title was "Evolution" but by the time I had the book in progress, that title plainly stunk to high heaven and the previous book's title had been in dispute because that one also stunk. At one point the publisher wanted "ghosthunter" but my agent and I nixed it since it had very little to do with the story and we thought it would confuse people into thinking it was about the popular TV show. It took a while to get VANISHED, but eventually we were all satisfied.
Labyrinth, however, was a battle. I had wanted that title from about the time I started the outline, since a lot had changed in the progression of the over all story and I knew I wanted that image--of complicated mazes and difficulties to overcome to get to the center of a problem. Unfortunately, the publisher was a little shy of using the title since they also publish Kate Mosse's excellent historical thriller of the same name. No one could come up with a better one-word title that gave the same feeling and eventually several people went to bat for me with the publisher and we got the title. I did send a lot of "thank you" presents for that one--it really meant a lot to me to have that title and I'm still incredibly grateful for everyone who helped with that decision.
And I don't even /have/ a title for the sixth book, which is sitting on my computer half-written with the working title "Rain--Grey #6". My editor is brainstorming away, coming up with a title and it'll probably be a good one: Anne has good taste.
Amber - How do you pick the names for your characters? Do they have any special meanings?
Kat - Sometimes I do work in specific references (like Harper is a reference to Harper Lee, autor of TO KILL A MOCKINGBIRD) or the names of friends (vampire John Purcell is a friend from a mystery reading group I used to hang out with) and charity doners, but usually I'm just trying to find a name that "rings" correctly. It has to have the right sound in my ears for the character's age, background, and personality and it has to sound like the name of a real person. It also has to not make a pun or joke I will be embarassed to read aloud later. Some names come tromping in all ready to go and others have to be pulled and tugged and re-worked over and over. Sometimes I just grab names off street signs, or advertisements, or off headstones in graveyards. I once named two characters after intersections in my hometown.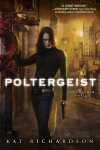 Amber - How long on average does it take you to write a Greywalker novel? Do you have a process you follow? or do you just start at page one and see what happens?
Kat - I'm kind of a slow writer lately and I like to have some structure before I just dive in. I used to be faster and it took about eight to twelve weeks to write a first draft (GREYWALKER took only 6... the first time), but I also used to have to revise 3 or 4 times before the manuscript was acceptable. Now I take 4-5 months to write a book, but I usually turn in my first completed draft. I'm an outliner, but my outlines have become less specific and more skeletal as I've gotten more experienced. I do more research as I'm writing, instead of doing it all up front and then trying to remember it. So I still start with an idea, research, and then an outline, but I let the story take final shape in the writing, rather than pre-shaping it in the outline and then cleaning up the messes at the end. Now I do a lot of re-drafting and cleaning as I go. But I do try to make at least 2,000 words of forward progress every day M-F. Theoretically that should mean a book takes me 10-12 weeks, but research, paperwork, stupidity, travel, and life do intrude.
Amber - There has been quite a lot of Paranormal TV series and Films to hit the screens lately. Why do you think that is? Would you like to see Harper Blaine come to life in the same way? Who could you imagine playing the part?
Kat - I think fascination with the paranormal comes in cycles and they are often tied to economics or social insecurity. I think people want relief or some kind of retreat to an idea that something magical exists and can save them from the messes they see happening around them out of their control. Also it's just kind of fun to tweak the nose of pompous, codified science once in a while (and I say this as a believer in science and the scientific method). The "what if" game reopens our sense of the fantastic and wonderful. And of course that magical quality makes for great speical effects on TV and in films.
Of course I'd be thrilled to see Greywalker adapted to the screen--large or small--but it's something over which I have no control so I haven't much indulged in the casting game. I wonder if they could get David Zayas for Carlos, though.... ;) Of course, I'd be equally happy to see a Greywalker graphic novel or game, too. I really am easy to please.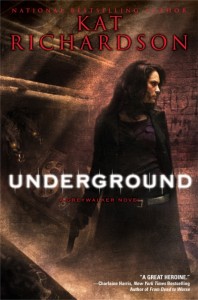 Amber - Will there be more books in the series? How long would you like to see things continue for Harper? Do you see an end in sight?
Kat - I'm working on the sixth book now, but it's currently the last book under contact. I do have more ideas and I think I could do 3 to 5 more before I'm too bored with them but I don't yet know if there will be more books: that decision rests with my publisher and readers. If books don't sell, the publisher won't pay for more and while these are doing OK, the economy is a little scary right now. Of course if the books became a TV series, I'd certainly have to do more, right? *laugh* but I'm not holding my breath. I'm just waiting to see. And if they don't go for more Greywalker novels, there are always other projects on my back burner.
Amber - How much say do you have in the book publishing process? For example do you get a say on what the covers look like?
Kat - I don't have much say in anything outside the content--and even that gets a lot of cleaning up with the editorial crew. I can put my foot down about covers or titles if it's really worth the "diva" brush I may get tarred with but that might or might not have any effect and as a professional, you have to think about your whole career, not just one book. Saying "NO" worked with the title issue, but I doubt it would have much effect on a lot of other things and it wouldn't be worth it on most of them. For instance, I have no say in the cover art or design, marketing, promotion, when the book comes out, the cover price, or what format it's in, whether it becomes a film, or an audio book or gets translted into Farsi... None of that is in my control at all. Luckily, I happen to have a great publishing team and a supportive agent as well as one of the coolest cover artists in the business, so I generally get really good stuff anyhow and I'm happy with that.
Amber - There are alot of online sites taking up peoples time lately. Are you on Facebook or any other sites? Do you think the sites are useful or do they just take up too much of your time?
Kat - Yes I am on Facebook and on Twitter and I maintain my own website, a blog, an LJ and occasionally pop up on the group blog The League of Reluctant Adults. These seem to be useful to me, but I don't push them too hard. I've been watching the internet for a while now (I first got online in 1999) and I haven't seen that there's a strong correlation between social media and sales for writers. I think they raise your profile slightly, but the real advantage of them is not in "selling" yourself, but in attracting the friendly attention of people who will go out and sell you for you: the positive word-of-mouth that comes as a secondary effect is far more valuable than the direct hard-sell approach in my opinion. So I don't spend a lot of time on the social nets. I post a little, in fits, when I have something worth saying and then I get back to work. Before the Intartubes can suck out my braaaaaains!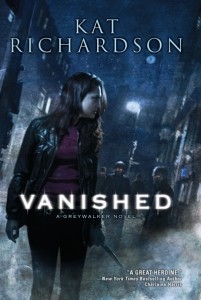 Amber - What are you listening and watching lately? Is there any music or other media that influences your writing?
Kat - Books are and always have been my biggest influences--I love to "see" the world another author describes to me. I loved Shakespeare and Austen and Hammett and Chandler in my youth and I still do. I don't listen to much music while I'm working--it distracts me. But I do listen to loud obnoxious music when I'm driving or mucking around on the boat and that does sometimes creep into my writing. I like a bit of everything from Ella Fitzgerald and modern swing to The Pogues and The Clash to Green Day and Silversun Pickups. I have a background in classical vocal music and I've sung jazz and show tunes and folk and rock... so I'm happy with lots of different stuff.
I don't have a TV and I don't get out to the movies like I used to, so I mostly rely on Hulu and Netflix, but I love shows like Bones, Deadwood, Pushing Daisies, Keen Eddie, Life on Mars (the British version), and the old, campy years of Doctor Who. I love action flicks and SF and period films with ridiculous costumes. I even go for the occasional romantic comedy. I like things that are "quirky" like the films of Neil Gaiman's books, and that odd brand of British humor in films like Kinky Boots and The Full Monty. I also absolutely adore the films Chocolat, Fight Club,
Iron Man, and A Fish Called Wanda. I steal from them every chance I get.
Amber - If you could be any paranormal creature, what would you be and why?
Kat - Dragon! I love dragons. I was born in the Year of the Dragon. Dragons are cool and they have of treasure! Hmm... maybe I should write a book about a dragon....
Amber - Thanks for visiting Amberkatze's Book Blog again!
Kat - Thanks for having me Amber. It's always a pleasure to visit you and your
readers!
---------------------------
Contest Time
Kat is very kindly giving away a signed copy of Labyrinth!!
How To Enter
In the interview, Kat mentioned a working title for book #6. Find that title and suggest some more titles! Let's see how creative you guys are :)
No Title Suggestion = No Entry
Earn more entries for each link you place about this contest on the net. You can post on Facebook, Twitter & MySpace but make sure you add links here for me to confirm your entries! However please do not make individual postings for each entry. Please post all your entries in one post.
Advertise Amberkatze's Book Blog on your site and get an extra entry for this and every other contest!
You can also earn extra entries by emailing your friends about the contest. Just make sure you send a copy of your email or receipt to me at Amberkatzes_book_blog at gmx dot net.
Make sure you post your links here so I can confirm your entries.
Keep the contests going by using the Bookdepository.com links/Banners below and around the site!
The contest will stay open until Sunday 15th of August 2010 4pm CET and the winner will be picked by a randomizer. Entrants should check back to see if they have won. I do not hunt down winners and will pick new winners for any prizes not claimed within 7 days.