This week I have a second author guest that I hope you will all enjoy reading about! Elle Beauregard is the author of 'Shift' the first book in a series about a girl who is trying to get used to her new skills as a shapeshifter.
Shift is already on my Kindle ready to be read and
until July 31st you can get your own copy for just $1.50!
I hope you all enjoy Elle's guest blog and check out her book! Also make sure you enter this weeks contest for your chance to win a copy of Shift! There are two copies up for grabs!
---------------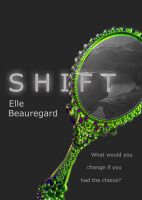 I'm a writer who also loves to sew. If you read my blog or follow me on Twitter you'll occasionally catch a tweet or quick mention of a current or future sewing project. I make 19th century reproduction costuming (to scratch my steam-punk itch) as well as regular stuff for everyday use like skirts and hoodies, etc. I love to sew. I love the way a + b = c—if you follow the directions, you will end up with a garment. I love choosing the fabrics and finishings, knowing that a blue jersey knit will make a piece look entirely different than the same pattern made in brown herringbone tweed. But I love, most of all, that moment when pieces of seemingly shapeless fabric suddenly transform into a recognizable garment. (I have been known to exclaim things like "Look! It's a jacket now!" at that moment.)
And that got me thinking: some of the things I love most about sewing, are the very same things I love about writing.
No, seriously—hear me out on this one:
A + B = C
Sewing: Follow the pattern's directions and you will always come out with a garment. Sometimes it's not exactly what you expected, but it's finished nonetheless.
Writing: If I follow my own rules and stick to my outline, I will always end up with a finished manuscript. Sometimes it's not exactly what I expected, but it's a finished piece and I'm happy with that, at the very least.
Choosing Appropriate Materials
Sewing: I can change the look and feel of the finished product by choosing one fabric, button, snap or bead over another. Example: Blue jersey knit versus brown herringbone tweed
Writing: I can change the feel of a story by changing character facts and history, and/or by making small adjustments to the setting or other details.
If I make a royal mistake, I might have to start over
Sewing: If I mis-sew a seam or sew a button in the wrong place, I'll have no other choice than to rip out the stitches and start again. Sometimes it's only the one seam that is affected; other times, the one mistake may have a detrimental effect on other facets of the piece and require more severe revision (especially if the mistake is not caught quickly.)
Writing: If I write a scene that makes no sense (probably because I failed to follow my own rules) or force my characters to make a decision that would not be in their nature, I have no choice but to go back and heavily revise the scene (or, more likely, delete it and rewrite.) If I catch my mistake soon enough, only that one scene may be affected. If I don't pay close enough attention, however, that one mistake could end up having implications in all the scenes following, requiring a much more intensive bought of rework.
That moment when nothing becomes something
Sewing: "Look! It's an actual garment now!" (Instead of pieces of amorphous fabric!) "I can't wait to see what it looks like when it's all finished!"
Writing: Suddenly characters take on a life of their own; they develop feeling and weight. They experience conflict, both internal and external. In that moment, the story I'm writing goes from something I'm working on, to something I have a compulsion to finish.
See?! Cool, right?
Sometimes, my sewing is inspired by a character I might be writing at the time. Hopefully I'll get to post some pics of past sewing projects and other's finished pieces that remind me of upcoming characters from a new series scheduled to release this Winter. In the mean time, you can read characters studies from SHIFT and other random musings on my blog,
Creadium
.
------------------------
Author Bio:
Elle wrote her first novel at the age of 16. Then she wrote a sequel. More than ten years later, those first manuscripts are accompanied by many companions. An indie author with imagination and heart, Elle writes smart, compelling Young Adult and New Adult contemporary fantasies that feature strong female leads and real relationships.
Like Elle on Facebook
Follow Elle on Twitter
Find Elle on Goodreads
SHIFT e-book on Amazon
Look for SHIFT in print, plus RECAST (Shift Series #2) out later this summer!
-------------------------
Contest Time!
Elle is giving away a two copies of Shift!! So there will be two lucky winners this week!
How To Enter
Elle has asked me to write a guest post for her site as well! Yay! However I can't seem to come up with anything to write about. So post your ideas! The best ideas will win and will get a post written about them by moi!
No idea = No Entry
Earn more entries for each link you place about this contest on the net. You can post on Facebook, Twitter & MySpace but make sure you add links here for me to confirm your entries! However please do not make individual postings for each entry. Please post all your entries in one post.
Advertise Amberkatze's Book Blog on your site and get an extra entry for this and every other contest!

Have you 'Liked' Amberkatze's Book Blog on Facebook?


You can also earn extra entries by emailing your friends about the contest. Just make sure you send a copy of your email or receipt to me at Amberkatzes_book_blog at gmx dot net.
Make sure you post your links here so I can confirm your entries.
Keep the contests going by using the Bookdepository.com and Amazon.com links/Banners below and around the site!
The contest will stay open until Sunday 17th of July 2011 4pm CET and the winner will be picked by a randomizer. Entrants should check back to see if they have won. I do not hunt down winners and will pick new winners for any prizes not claimed within 7 days.