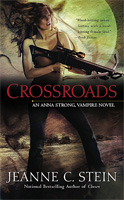 Reminder Time!
Did you already enter the
Jeanne Stein Contest
?
The wonderful author of the Anna Strong Chronicles is my guest this week and she is giving away two amazing prize packages! Both winners this week will get a copy of Crossroads (her upcoming release), a $25.00 gift certificate to Amazon (or Barnes & Noble), book cover magnets and some other swag!
You have till Sunday to
enter
!!
Also I have a
special contest going on
!
I wrote a
guest blog for author Elle Beauregard
about my TBR pile! Now you all have the chance to win a copy of any book you can see on the pictures of my bookshelf!
So make sure you check out the
Guest Blog
and then
enter the contest
!
Oh and I have added another photo here of my shelf (click on it to open a bigger version)...maybe it will give you more choice...or just make it harder to choose?
Whichever way - You have till Wednesday to enter!
For more chances to win -
Post about this giveaway somewhere on the internet eg. Facebook, Myspace, Twitter etc. Make sure you post the link here so I can confirm your extra entry.
Email your friends about this giveaway. Make sure you add my email address so I also get a copy and can confirm your entry. Amberkatzes_Book_Blog@gmx.eu
Do you 'Like' Amberkatze's Book Blog? Facebook It!
Use the Bookdepository or Amazon links/banners to keep the prizes coming! Oh and advertise Amberkatze's Book Blog wherever you can ;)
Never miss a contest or author event! Sign up for the newsletter!