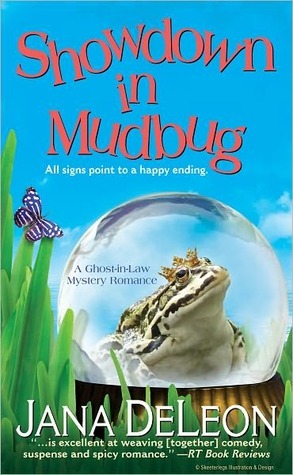 The Blurb :
Who killed Helena Henry? The shorter list may be who didn't want her dead.
Psychic Raissa Bordeaux thought she'd left her former life behind, but when a child is kidnapped, she risks her secret identity by offering the police help with the case.
New Orleans Detective Zach Blanchard doesn't believe in psychic hooey and is certain Raissa didn't get her facts about the case from a crystal ball. He suspects her of something besides being the most intriguing and attractive woman he's ever come across. But when Raissa's secrets put her in danger, can Zach convince her to trust him with the truth before it's too late?
My Thoughts :
I continue to enjoy my visit to Mudbug while listening to this third installment! I am absolutely loving it! Once again I was not disappointed in the continuing story of the Mudbug residents and all the secrets they hold. The Ghost-In-Law twist is just the icing on a very delicious story that changes POV in each book. Now I wonder who the fourth book will revolve around.
This time around the plot centered around Raissa as her past catches up with her. The other characters from the previous book were all present as she drops her cover to help look for a kidnapped girl. The new guy on the scene for this story was Zach, a detective, and it was fun following his and Raissa's mystery filled adventure.
There was also some other bits and bobs thrown into this third book. Mainly Helena's continuing search for her killer and her finding out why and how Hank isn't her son. There was also alot of Hank appearances with some developments in his story. Which leads me to believe that he may have one of the main roles in the next book.
I loved the plot with its very interesting and dramatic twists and turns. It could be seen as over the top but it made for great reading. The author manages to make the story light and fun but also keep it serious. I find myself shocked and amazed and then giggling the next as I listen to this well narrated audiobook.
My stay in Mudbug, Louisianna isn't over! I am, as I type this, already putting the fourth and fifth installments onto my iPod. I am loving this series so much that I can't stop myself from continuing. This cozy paranormal mystery is a hoot and if you like Molly Harper's books then you will also love what Jana DeLeon has going on in Mudbug. Well worth checking out and definitely worth listening to with Johanna Parker (Sookie Stackhouse Audibles) reading this story like a pro!