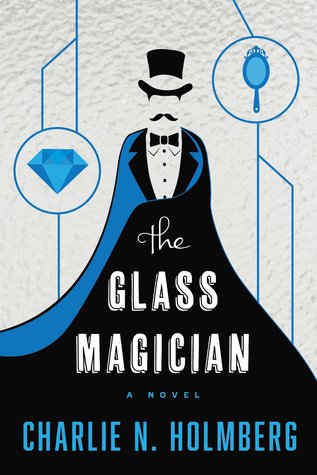 The Blurb :
Three months after returning Magician Emery Thane's heart to his body, Ceony Twill is well on her way to becoming a Folder. Unfortunately, not all of Ceony's thoughts have been focused on paper magic. Though she was promised romance by a fortuity box, Ceony still hasn't broken the teacher-student barrier with Emery, despite their growing closeness.
When a magician with a penchant for revenge believes that Ceony possesses a secret, he vows to discover it…even if it tears apart the very fabric of their magical world. After a series of attacks target Ceony and catch those she holds most dear in the crossfire, Ceony knows she must find the true limits of her powers…and keep her knowledge from falling into wayward hands.
My Thoughts :
The Glass Magician is hard to categorize. It feels Young Adult and it is definitely Paranormal and a little fantasy. However it is also slightly steampunk and historical. A mix of many great genres rolled up together with a very original and unusual concept. The first book was ok. It didn't blow me away but it did have something about it that made me want to continue with the series. However it also had a few things about it that bugged me.
I have to admit that some of the things that bugged me in the first book also got to me in this sequel. The Glass Magician starts out with Ceony celebrating her nineteenth birthday but yet again I felt she acted much younger. I really am not feeling the relationship between her and Emery which is basically saying it is ok to go after older men and it is alright to have a relationship with your teacher.
The plot is thrilling enough but I found I didn't care much for what happened next. I had a sneaking suspicion that things would all end well and so I didn't worry about what happened in between. Some of the violence and death involved did surprise me because in the first book I was under the impression that the author was scared to go that route and was playing safe. This time around she really went for it and I felt sorry for a certain character who ended up being killed off.
As far as the concept goes, this trilogy is unforgettable. I love the idea of all the magic that is portrayed in this trilogy so far and that's what kept me reading. How the magic appeared, the history of it and how it fits into this world isn't really examined but maybe the third and final book will shed more light on that. I think that a big hole in the telling of this original story.
When I read and reviewed the Paper Magician I saw that the Glass Magician was also available and decided to take on both. I had already put the Paper Magician on my wish list after seeing a blurb about it somewhere and I have to say the cover also got my attention. The Glass Magician is the second book in what is apparently a trilogy so now I am way over the halfway mark for this series and feel obliged to read the last installment. In some aspects I am excited to see what happens in book three but on the other hand I wonder why I should bother when I have so many problems with the story so far.
Time will tell if I complete the series or not. It certainly is different and well worth trying. Don't let my moans and groans put you off because as a whole this series really does stands out and it would be a shame not to try it if the blurb interests you.