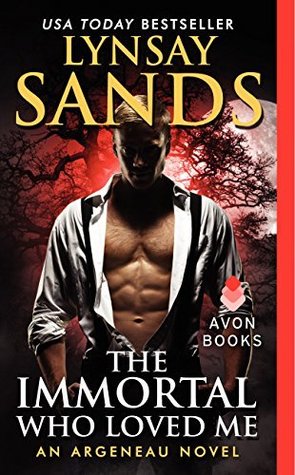 The Blurb :
A few hours ago, Sherry Carne would have sworn that vampires didn't exist. That's before rogue immortals rampage through her store, leaving bloody chaos (literally) in their wake. The kicker comes when Sherry learns that one of the vamps on the bad guys' trail may be her life mate. Her head says it's impossible. The rest of her takes one look at Basileios Argeneau and has much more interesting ideas.
Whatever Basil expected in a life mate, funny, outspoken Sherry isn't it. But mind-blowing chemistry and instinct don't lie. They tell him something else, too—that Sherry's connection to the immortal world goes deeper than she knows. And that she's in the kind of danger only Basil can save her from—if she'll just trust him, now and forever . . .
My Thoughts :
Like all the previous Argeneau novels, this was a wonderful reading experience. The author never fails to come up with another original and exciting story in the world of her immortals. With each life mate story that comes along there is always a new twist and a different plot. However the same story is there in the background and all the characters from the previous books come along for the ride.
It amazes me how Lynsay Sands manages it. Twenty-one books in and she never fails to spin a different tale that ends with the same satisfying ending. Romance combines with mystery and the paranormal for the foundation of this series which is always the same. The main characters stories always build on this foundation and make a new but familiar tale that sucks you in from the very beginning. I know that they will make it in the end but how they get there is the huge mystery that keeps me coming back for more.
This time around there are some developments in the on-going story that will please a lot of fans. There is also the usual group of characters from the previous books making an appearance or being referred to. It is always nice to find out how everyone is doing. You can expect some hot scenes and some thrills as well as some amusing moments. Everything I have come to know and love about this series.
Argeneau immortals are one of the best 'vampire' series out there. A great strong concept with fabulous characters and spectacular writing. I hope there will be another twenty-one books in the series because I just can't get enough of the different ways the life mates meet, get together and stay together. Oh and I hope Bricker is the next one to find his life mate!
11)