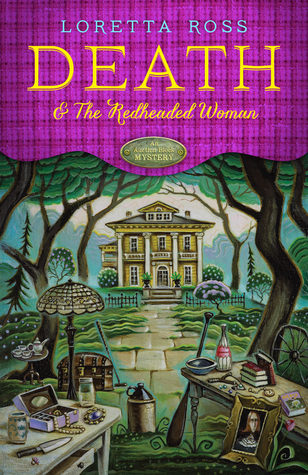 The Blurb :
A strange death calls on Wren to be a jewel-seeking sleuth
As someone who appraises and prepares houses for auction, Wren Morgan has seen her share of fixer-uppers. But when she arrives at her newest project, Wren is unprepared to find something she can't easily fix--a naked, dead man.
Soon after her disturbing discovery, Wren meets Death Bogart, a private investigator and surety recovery agent who's looking for the famous missing jewels of the Campbell family. When it becomes clear that there are actually two sets of lost family jewels, Wren and Death team up to solve not only the mystery of the jewels, but also the naked man's murder. With their case growing more and more complex, though, will they be able to catch the killer and bring home the loot?
My Thoughts :
Before I start my review I have to apologise for the lack of reviews this week. I am ill for the third time in six weeks and it is really messing up my reading schedule! However it is books like this one, Death and the Readheaded Woman, that can really make you feel better even if you have a sneezing fit every few pages. Loretta Ross has managed to make this cozy mystery amusing, romantic and easy to read. Just what I needed!
Some things about this book and the mystery involved were a little too easy. The romance happens quickly and without question and the characters just fall into things without thinking about any of it. However the lack of all this long drawn out 'should I?' or 'Shouldn't I?' was actually a relief and it left more time for the plot.
The Auction Block Mystery debut makes a nice impression. I found myself liking the style straight away and enjoyed the little laughs along the way. The romance was not drawn out or over the top which suited me fine. There are only so many times you can put up with the 'will they?' or 'won't they' situation that spreads over five books.
The auction aspect of the mystery was well implemented into the story and wasn't forced or over the top. I liked the family that Wren works for and they added some funny moments to the book. Wren is very likable but I would like to get to know her better while Death has disclosed lots of his history and seems to be more of an open book.
I really enjoyed this debut and would definitely check a sequel. I look forward to seeing where the author takes the series and hope the town and characters get some more depth but that the author doesn't over do things and keeps the light and cozy feeling she has already created here in the first book.
11)