The Blurb :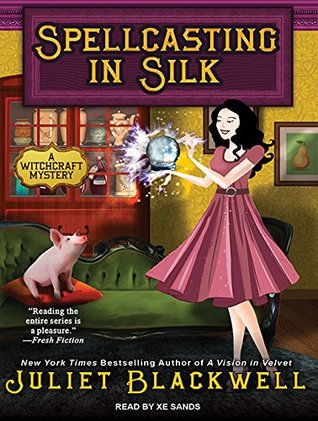 Lily would like nothing better than to relax, enjoy her friends, and take care of business at her store, which is booming thanks to San Francisco's upcoming Summer of Love Festival. But as the unofficial witchy consultant to the SFPD, she is pulled into yet another case.
A woman has jumped off the Golden Gate Bridge, and her apparent suicide may be connected to a suspicious botanica in the Mission District. When the police investigate the shop, they ask Lily to look into its mysterious owner, whose granddaughter also appears to be missing. As Lily searches for the truth, she finds herself confronted with a confounding mystery and some very powerful magic…
My Thoughts :
Juliet Blackwell has two paranormal cozy mystery series on my must read list and this is one of them. The Witchcraft Mysteries are great reads and Spellcasting in Silk is the seventh installment about Lily the witchy vintage clothes shop owner. The series is quite original and their are certain things that keep this one fresh and unusual. The vintage clothes are definitely a nice concept but the addition of a pig familiar (who isn't really a pig) makes things very interesting and different.
However there is something about the magical aspects of this series. I am enjoying the different views on magic but I have a feeling that the author wants to teach the reader about every single type of magic. Meanwhile there is no focus on Lily's magic and what she is really capable of. On the other hand she seems to be the go to witch when you need help but she hasn't even been in San Francisco a year. This, I have to say, threw me a little. I thought Lily had surely spent more than a year in the city by now. She is so well known and so settled in.
I suppose a series grows there are always going to be small aspects that start to stick out. I am not saying I didn't enjoy this book. I liked it a lot. Although I remember liking the other books in the series more. The mystery was interesting but the investigation and conclusion were confusing. There were a lot of characters and aspects involved that made it harder work than it should be to follow the story.
So I guess you could say this wasn't my favourite installment. However I continue to love the series and look forward to seeing what happens next in Lily's world of magic and vintage clothing. This remains a must read series for me and I am definitely keeping it on my pre-order list. After all this is a wonderful paranormal cozy series that stands out from others.