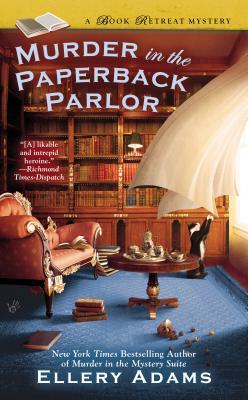 The Blurb :
With Valentine's Day just around the corner, Jane Steward is organizing a week of activities for fans of love stories at her book-themed resort. But her Regency readers barely have time to brush up on their Jane Austen before tragedy strikes Storyton Hall. Rosamund York, one of the most celebrated authors in attendance, is killed.
Rosamund had as many enemies as she did admirers, including envious fellow novelists, a jealous former lover, and dozens of angry fans. It's up to Jane, with the help of her book club, the Cover Girls, to catalogue the list of suspects and find a heartless killer quickly—before the murderer writes someone else off…
My Thoughts :
I think I need to stop pre-ordering books. Why? Because it isn't worth having them arrive asap on my Kindle. This newest addition to the Book Retreat Mysteries releases back in August and I pre-ordered it...and only just got around to reading it. Oh and I only read it because I was too lazy to go check which book was up next on my review reading list.
All that said and done, this was a nice read. I love the concept and like the fact that the leading lady has children amongst other responsibilities. All too often the leading character has no dependents or ones they can just ignore. With Jane actually invested in everything it means she comes across as more realistic than many of the characters we meet in so many other books.
Murder in the Paperback Parlor is only the second book in the series and despite there being a nice helpful map at the front of the book it didn't help me really envisage how the village looks. Also I am finding it really hard to decide how Storyton Hall looks with all the secret places. The author does a great job of describing it all but obviously my imagination is keeping things to small because the places seems to be huge.
The plot was interesting enough and well thought out just like any Ellery Adams mystery. The author is a pro and knows how to write a great cozy, after all she has quite a few of them under her belt already. The continuing story of revolving around Jane and Storyton will keep me coming back for more from this series but I have to say this isn't my favourite series by this author.
Ellery Adams continues to be one of my favourite cozy mystery writers and I look forward to reading more of her books. There are still a couple on my Kindle and I can't wait to catch up with her other series I enjoy so much. I also look forward to the next Book Retreat installment. It will be interesting to see where the author takes this series and how many murders the place can suffer before it starts losing guests....