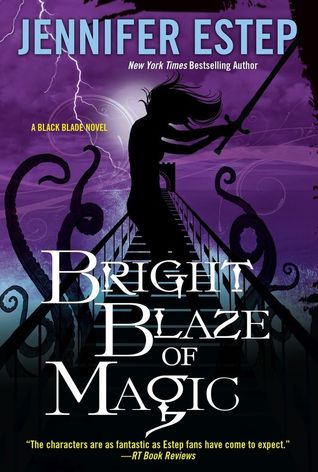 The Blurb :
Bad Things Always Come In Threes…
As a thief, I'm good at three things: hiding in the shadows, getting in and out unseen, and uncovering secrets. I put these skills to work for the Sinclair Family, one of the magical mobs that run the tourist town of Cloudburst Falls.
Everyone knows Victor Draconi wants to take over all the other Families--and kill every last Sinclair. What they don't know is that I'm on to him, and no way will I let the man who murdered my mom get away with hurting all the other people I care about. Especially when I've got places to break into, stuff to steal, and Devon Sinclair fighting right by my side…
My Thoughts :
Jennifer Estep has done it again! Another amazing story! I continue to be in constant awe of the original and exciting books that this author keeps coming up with. There are so many Paranormal Urban Fantasy writers out there who are dredging up the same old ideas but Jennifer Estep continues to make up her own worlds with original and compelling magical aspects.
Anyone who has been following this series will be eager to read this third installment. The cover is spectacular and the blurb doesn't give too much away but believe me this one is more action packed that both the books before it. It is also quite dark with a lot of death and destruction. Things come to a head and you won't believe what happens.
I don't want to give anything away so I will keep this review short. Read all of Jennifer Estep's books, including this series. Don't let the term Young Adult put you off in anyway. These maybe youngsters but they are living and fighting in an adult world. If you love the paranormal then you will be blown away by the wonderful new monsters and magic that the author has dreamt up for this series. Each book adds more depth and this third book is no exception!
A wonderful author with a great grasp on what excitement and adventure should be and how they can be made even more special with the right characters and unusual twists. I can't wait for her next book and anymore after that, in this series or any of her others or even something new!