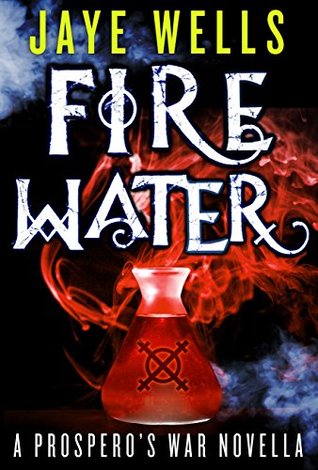 The Blurb :
Rookie cop Kate Prospero only has one more training assignment to pass before she's officially sworn in to Babylon Police Department. But the veteran cop in charge of the river patrol boat is a salty old guy isn't happy about playing tour guide to a rookie and seems even less interested in real police work. But while on patrol, they stumble on to what appears to be a floating dirty magic lab. This highly combustible situation might finally be the key to these two unlikely partners finding common ground.
My Thoughts :
If you haven't already read the first two books from the Prospero's War series then Fire Water is the perfect opportunity to try before you buy. A short story set before the series begins, this novella is a look at what you can expect from the full length novels.
Back when Kate was just a rookie and her brother was younger, she had to do what she could to get them stable. It wasn't easy for her because of her history and family but this short story gives the reader a quick look at a moment in Kate's life that changed things for the better and started her direction.
Of course the full length novels are way more in depth and detailed than this short tale but any fans of the series/author will love this quick read. Anyone who hasn't yet given the author or the series a chance will be able to see what it is all about without investing too deeply. Sure Fire Water doesn't do the series justice on its own but I am sure it is enough to spark an interest in the other books.