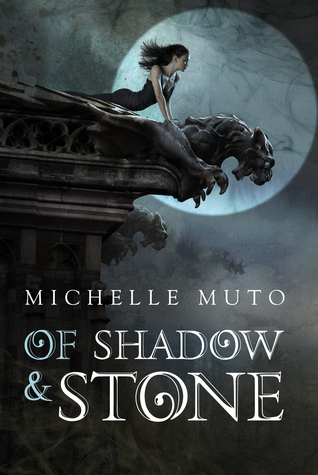 The Blurb :
Gargoyles were created centuries ago to protect mankind, but something went horribly wrong. Now only the sentinel—a mortal chosen to control the stone beasts—stands between them and their human prey.
When the latest sentinel is killed, Kate Mercer is destined to take his place. But Kate has enough going on in her life—like a skyrocketing film career, a delusional ex-boyfriend, and a crazed stalker who will stop at nothing to get to her. But the powers that be have decided, and Kate is transported to Shadow Wood, a mysterious castle that serves as a sanctuary for the supernatural. Although beautiful, Shadow Wood is no safe place for a mere mortal. Yet Kate is drawn not only to the gargoyles but also to Ian McGuire, a charming novelist who might be in the greatest danger of all.
As Kate decides whether to accept the most perilous role of her life, she discovers there are more secrets than answers within the castle's walls. Her survival and Ian's depend on her ability to master the gargoyles before time runs out. Is fate really cast in stone?
My Thoughts :
Of Shadow and Stone is an ARC I decided to take a chance on because of the gargoyle theme. For some reason I always like the idea of these grotesque statues coming to life and think the Paranormal Urban Fantasy genre needs more of them. The cover was also inviting and without taking a big look at the blurb (don't they give away too much sometimes!?) I was eager to see what this author had to offer.
I will admit that when I started this book I got the 'give up' vibe during the first few chapters. However I decided to keep going a few more chapters and before I knew it I had reached the halfway mark. Everything was so original and unusual. There were so many questions that needed to be answered and information to collect about the characters. I was sucked into the story and couldn't keep away.
The gargoyles aren't the only paranormal element in this book and readers will be surprised at all the other interesting twists and turns that come into play. There is a lot of suspense in the first half of the book as the story unfolds and Kate learns what is really happening. The foundation part over I was expecting something completely different to happen in the second half of the book. While the story still went out with a nice storyline it did turn into a romantic thriller and lost that certain something that kept me eager to finish the book.
All in all I did like the book because it was very mysterious and altogether unusual, After finishing I felt that there were some unanswered questions and also felt disappointed at the role of the gargoyles. The poor things weren't really explored or incorporated fully into the story and there wasn't really a closeness to Kate as depicted and implied on the cover.
There were also a few things that bugged me about the story. I can't go into details without spoiling things so I won't but it would be interesting to read some reviews in a few weeks after the book has been released and read by more people. I have to wonder if others felt the same.
Of Stone and Shadow came across as a stand alone book and not part of a series. However I could imagine a series growing from this book. Of Shadow and Stone would make a very strong prequel to something much bigger and I would definitely be interested in reading more about this well thought out world the author has created. It actually would be a shame to put such creativity to waste.
If you like your Paranormal Urban Fantasy to be thrilling with a shot of romance and adore Scottish castles then you may want to give this one a try. If you like gargoyles and like it when authors think out of the box then you have to check this one out. For its minor faults this was a great read and I am glad I took a chance on it.