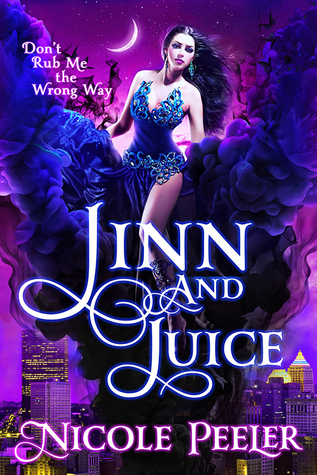 The Blurb :
Cursed to be a jinni for a thousand years, Leila nears the end of her servitude—only to be bound once again against her will. Will she risk all to be human?
Born in ancient Persia, Leila turned to her house Jinni, Kouros, for help escaping an arranged marriage. Kouros did make it impossible for her to marry—by cursing Leila to live a thousand years as a Jinni herself.
If she can remain unBound, Leila's curse will soon be over. But Ozan Sawyer, a Magi with the ability to See, Call, and Bind jinn has other plans.
Oz needs Leila to help him penetrate Pittsburgh's steel-soaked magic, a juice potent but poisonous to supernatural creatures, in order to find a missing girl with her own mysterious connection to Kouros. Unfortunately for Leila, becoming Bound to Oz may risk more than just her chance to be human once more—it could risk her very soul...
My Thoughts :
When I saw that Nicole Peeler had a new series coming out and it was about Jinn I was very excited. I actually had this book on pre-order and it appeared on my Kindle back in Autumn but then this other version appeared on Netgalley with a release date for April. Anyway I decided it would kill two birds with one stone. I would finally read the book (which had disappeared on the very long to be read list on my Kindle) and I could write a review for Netgalley.
So I finally sat down with this one and within a few chapters my excitement was in full swing. Lots of usual paranormal elements, a sassy leading lady and a mystery worth solving. However as the book progressed my excitement waned and I struggled to keep interested. And the worst thing about it? I don't know why!
There was some great stuff going on in this book and there was lots of action. However after the initial wow factor it just kept feeling so lala. Too much was going on at some points and it was hard to keep track of everything. A lot of the story was predictable and I started to find the characters a little over the top.
So this is like the thing you have always wanted, you get and then realise you could have lived without it. It is a disappointment and an anti-climax of sorts. I have to admit that a sequel isn't really sounding worth it right now but maybe when it comes I will give it a go. After all this author has done some great things, has a wonderful imagination and really delves into the unusual supernatural stuff.