The Blurb :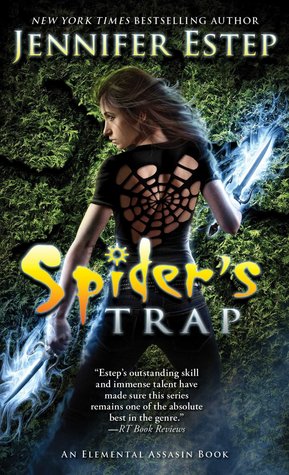 Keep your friends close but your enemies within stabbing distance.
One important lesson I've learned in the assassination business is that to be the best you have to roll with the punches. Now that I'm queen of Ashland's underworld—by default, not by choice—a lot more punches are being thrown my way. But I suppose that's the price of victory for taking down some of the underworld's top dogs. Good thing I have my Ice and Stone magic to help me survive my volatile new position. Just when I think things are finally settling down, someone tries to murder me during a hush-hush underworld meeting. But the real surprise is how strangely familiar my shadowy assailant seems to be.
My job is to maintain order among killers, crooks, and thieves, and soon I'm embroiled in a bloody game where the ability to keep secrets could be the greatest superpower of all. My enemies have all sharpened their knives and laid their traps, waiting for me to fall. But this Spider weaves her own webs of death…
My Thoughts :
I have arachnophobia but there is one Spider I love! Gin Blanco. Lately I find myself leaning more and more towards cozy mysteries but the Elemental Assassin series always manages to pull me back into the world of Paranormal Urban Fantasy and remind me why I ever read anything in the genre in the first place.
Spider's Trap is the thirteenth installment and definitely not an unlucky number for the author. She once again managed to excite and entertain me with another addictive story that I couldn't face putting down for even a minute. Jennifer Estep is on a winning streak and after all this time she is still writing stories that thrill and please.
There is everything inside Spider's Trap that fans have come to expect and adore. Fights, traps, plans and lots of physical hurt. The only question is who, what and why? Once again those questions are answered and they are nowhere near the same as the previous twelve books. This series continues to be original and surprising.
Jennifer Estep has trapped me in her web of amazing world building and exceptional story telling long ago and as the story keeps going I become even more addicted. The twists and turns the on-going story takes just flow along so smoothly. I can't help but feel invested in Gin's life and the lives of the other characters that have all made such an impact on reading enjoyment. The final chapter promises more to come and I can't wait for the next book. The last chapter also made me sigh in relief as I realise there is still more of Gin to come.
Once again I can only keep recommending this series. Jennifer Estep is definitely one of my top three favourite authors and The Elemental Assassin Series is in my top three favourite reads. One day this series will come to an end but until it does I will keep on pre-ordering or begging for ARC's. This is a must read series and not to be missed. Oh and when it does end I will be reading this series over and over again. It is just too good to only read once.