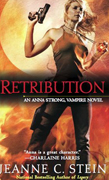 This week author
Jeanne Stein was my guest on Amberkatze's Book Blog
. Today was the last day to enter the
great contest
and it is time to announce the THREE winners!
Each winner will get their choice of signed Anna Strong book as well as some other goodies from Jeanne! All you had to do was let us know what you would name your vampire! There were some great answers and I know Jeanne has made some notes and you may just see your vampire names in future Anna Strong books!
A huge thank you to Jeanne for the great interview and prizes! Also lots of thanks for the great entries!
So now time for the winners! My trusty
randomiser
has been hard at work and picked these three lucky winners -
Bridget3420
!
Purango
!!
RKCharron
!!!
Congrats to all three winners!
Please contact me via email - Amberkatzes_book_blog at gmx dot eu within the next 7 days to claim your prize. Your claim will go quicker if you send me your address and choice of book!
I will pick a new winner if a prize isn't claimed. If you email me and don't get a reply within 48 hours please post on the blog letting me know. Some email gets eaten by my spam filter.