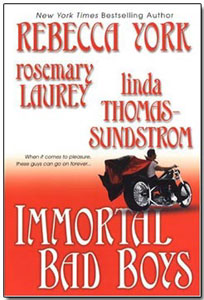 My author guest this week is
Linda Thomas-Sundstrom
and you have all been talking about sex! ;)
Even if you aren't a fan of the who romance and sexual aspects of the Paranormal genre you can't really get away from it. How do you feel about it?
Add your comment
and you may win one of Linda's Books!
You have until Sunday to
enter
and then one lucky person will get a copy of the anthology Linda took part in, Immortal Bad Boys!
So make sure you
enter
and enjoy reading through the comments! It makes for very interesting reading!
---------------------
Advertise Amberkatze's Book Blog on your site and get an extra entry for this and every other contest!
You can also earn extra entries by emailing your friends about the contest. Just make sure you send a copy of your email or receipt to me at Amberkatzes_book_blog at gmx dot net.
Make sure you post your links here so I can confirm your entries.
Keep the contests going by using the Bookdepository.com and Amazon.com links/Banners below and around the site!