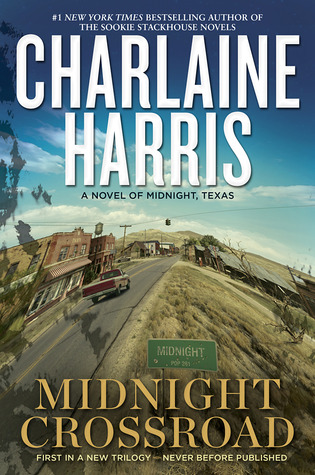 The Blurb :
Welcome to Midnight, Texas, a town with many boarded-up windows and few full-time inhabitants, located at the crossing of Witch Light Road and Davy Road. It's a pretty standard dried-up western town.
There's a pawnshop (someone lives in the basement and is seen only at night). There's a diner (people who are just passing through tend not to linger). And there's new resident Manfred Bernardo, who thinks he's found the perfect place to work in private (and who has secrets of his own).
Stop at the one traffic light in town, and everything looks normal. Stay awhile, and learn the truth...
My Thoughts :
Every series that Charlaine Harris has written has come to an end and all her fans have been waiting for what comes next. With this new book you find out that despite putting everything else to bed she isn't ready to leave them be. Midnight Crossroad actually seems to be the junction that has all of Charlaine's series meeting up. There are links to the Sookie Stackhouse world, Lily Bard's old friend Bobo is all grown up and living here in Midnight, Harper's friend Manfred has just moved in and there is even an Aurora Teagarden character involved in the story. As a reader and fan of all these series I was surprised, happy and intrigued by the mixture. Any fan would be!
The usual Southern style characters, location and attitudes that are always present in Charlaine's books are also present here in the very small town of Midnight. The only thing that is slightly different and unusual at first is that this book is told from various perspectives. Each character seems to have a turn at the reins which is not a style I am used to from this author. At first it was a little confusing but once I got to know the characters it was easier to tell them apart. The narrator of the book (I listened to this one) did a fine job of trying to distinguish each character but I got the feeling that she sometimes missed the ball when it came to the character change and didn't change her voice in time.
The mystery was well written and kept me guessing till the end. There are a lot of secrets in Midnight and it took a while for the ones relating to this mystery to be revealed. As the story unfolded the possibilities grew. It was interesting and exciting to follow lives of these people and see how it all fit together. I got hooked and found myself listening to the last hour yesterday, a Saturday, when I usually only listen to audiobooks during the week while on the way to and from work.
Fans of Charlaine's work will be happy with this new addition. There is something for everyone and she has kept a few paranromal elements alive that make this one even more special. Now I hope the next book about Midnight doesn't take too long to come out. It would be a shame to have to wait so long to visit Midnight again. I am sure there are more secrets hidden amongst this small group but I am sure they will come out in the other books about the town.
A must read for fans of any of Charlaine's books and a definite must read for anyone who likes paranormal cozy mysteries. If you haven't checked out the other books by Harris then this one will make you want to check out Lily Bard, Aurora Teagarden and Harper Connelly. Just don't let the changing POV's put you off or annoy you. Get to know each character and enjoy the stories they have to tell. This is another great idea from a great writer and I am happy with how it has started and can't wait to see how it continues.
↑ Grab this Headline Animator