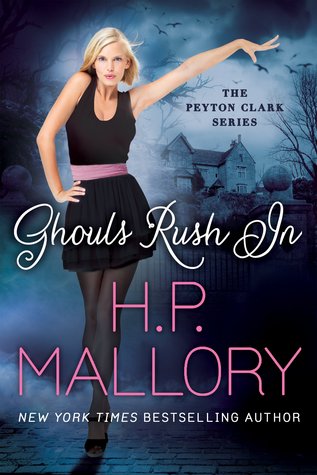 The Blurb :
Looking for a fresh start, Peyton Clark becomes the proud owner of a piece of New Orleans history: an Antebellum-era two-story house in the Garden District. It's going to take time and a fat wallet to restore the fixer-upper to its former glory, but after her recent divorce, Peyton could use the distraction.
It's not long before Peyton discovers she's moved into the haunted home of a flirtatious paranormal prankster. She's receiving kisses from unseen lips and caresses from a ghostly hand, and soon she begins to have vivid dreams, bringing her face-to-face with the incomparably handsome ghost of Drake Montague.
When Peyton grows closer to her general contractor, Ryan Kelly—who is as charming as he is alive—the chill in the air could only suggest Drake's jealousy from beyond the grave. But even though she's definitely attracted to and interested in Ryan, Peyton also can't get Drake out of her dreams, or her heart, as she begins to uncover the frightening truth behind his death a century ago…
My Thoughts :
It's that time of year at work where things are all coming to an end and there is a lot to do. So my reading time has been sparse and I have only had the chance to listen to my audio book this week while out and about. This meant that I actually managed to finish it which was a nice achievement seeing as I didn't pick up my Kindle all week.
H.P. Mallory isn't a new author to me and I already listened to her Dulcie O'Neill series over the last year. When I needed a new audio book and came across this one I decided to give it ago. It sounded good and I liked the whole ghost talk. However this one didn't turn out to be what I expected and took a long time to get good. Chapters went by without any talk of ghosts and it wasn't until I was over two hours into listening to the book that something paranormal finally happened. All in all the paranormal element wasn't really amazing. It was a good concept, the axeman murders and the history was interesting, although other than that it all felt a little flat.
The blurb for this one is misleading. I quote "It's not long before Peyton discovers she's moved into the haunted home of a flirtatious paranormal prankster. She's receiving kisses from unseen lips and caresses from a ghostly hand". If anyone can tell me where these kisses and caresses took place in the book then please let me know. I must have zoned out because this was not the relationship that Peyton and Drake had. There was an obvious attraction from his side and she seemed to really care for him but nothing happened. They actually spent more time shouting at each other than, like the blurb suggests, being flirty.
As for the characters, well they were mediocre. Peyton came across as a twenty something girl who was being independent for the first time and had never done anything ever. In reality she was older, divorced and was apparently a bit of a wild child in her younger years. Peyton was a completely confusing and contradictive character that I found hard to like. Drake was ok but I feel like the reader had a chance to really get to know. For a character who had such a big role I went away from this one knowing very little about him.
The love interest, Ryan, was ok. A little annoying at times but he was nice. I think he and Peyton make a good couple and it will be interesting to see what happens between them. There weren't many other characters but the ones that did make an appearance seemed nice enough in the short time they happened to be in the story. Although if I met the Warlock guy in real life I may slap him for being so melodramatic.
This wasn't a bad start for a new series but it did seem a little bland. I expected more from the blurb that was given and I also expected more from the author. There was a certain 'je ne sais quoi' missing despite it having a great location and concept. Maybe I was looking forward to another Paranormal Urban Fantasy type book when what I really got was a Paranormal Romance with a little Cozy mystery on the side. Whatever made this book poor compared to my other experience with this author I still want to check out book two.
Despite my moans and groans, Ghouls Rush In wasn't a huge disappointment. It had some funny moments as well as some nice mystery/historical elements and there was enough goodness to keep me listening to the end. I just hope the sequel builds up the story more, has the characters evolve and maybe answer a lot of the questions that were left unanswered by this first installment. I understand this is a series but nothing was really achieved in this first part and I felt there should have been another hundred pages or so to the story.
Worth checking out if you like this author, ghosts or a bit of romance. Not for you if you like more paranormal and fantasy. Definitely worth listening to! The narrator did a great job and made Peyton sound older even if she wasn't acting her age. I will be listening to the second part when it releases in Autumn.
↑ Grab this Headline Animator