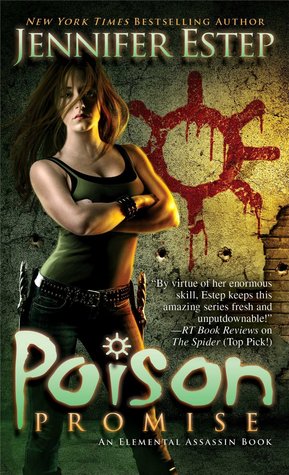 The Blurb :
Gin Blanco is hard-nosed, sexy, and lethal. Nicknamed "The Spider," she's a stone elemental assassin who brings her unique mix of magic and tact to every assignment, no matter the target.
There's a new drug on the streets of Ashland, and its name "Burn" sums up the potent effect it has on its users. When one of her restaurant employees is threatened by dealers of the drug, Gin steps in to set things straight…
My Thoughts :
This ARC has been on my Kindle taunting me for a couple of months and I finally caved and read it today. Yes! In one day! That shows how amazing this series is. I only managed to stop myself from reading Poison Promise straight away because there were other books that needed to be read first but I couldn't hold out any longer. This series is the best. There isn't any other series I can think of that can stand up to Gin and the fantastic set of friends and family she has.
Gin's story isn't a new one but it continues to impress and amaze. Poison Promise is due out next month and it is the eleventh installment in the original and unforgettable Elemental Assassin Series. I never need my memory jogged when I pick up a new part in the story because this series is too unusual and special to not remember. This new addition to the series is no exception and from the get go I was, as always, captivated by the story that began to unfold. It was hard to put down and I found myself only stopping to have lunch and then going right back.
I don't want to give away the plot but any fans of the series need not worry. This isn't the last installment and there are some really nice wow moments. The continuation of Gin's life as an Elemental Assassin is just as compelling as the previous installments and Poison Promise has as much action, depth and urban fantasy as all the others have before it. Nobody will be disappointed but there are some surprises.
For anyone who hasn't read any of the books yet...well I wonder what rock you have been living under. The Elemental Assassin series is a must read for any lovers of the Paranormal Urban Fantasy genre and anyone who likes a kick-ass leading lady. I would love to be friends with Gin and the gang and with each new installment I can't help but love them even more.
My praises for Jennifer Estep can be found on each review I have written for each book she has had released. She is a must read and pre-order author but usually I find myself begging to get a copy of the newest Gin story before it is released. I just can't get enough. This is a series that I will hate to see end and one I will definitely be re-reading for years to come.
As a closing note I have to wonder why this series hasn't made it onto TV or been made into a film. Although I also have to wonder if anyone could actually do the books justice. They are just too special.
↑ Grab this Headline Animator