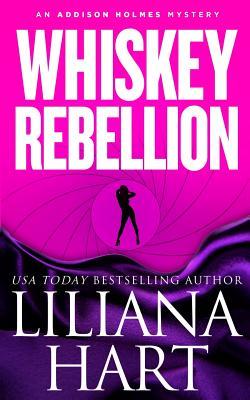 The Blurb :
My name is Addison Holmes, and I teach history at James Madison High School in Whiskey Bayou, Georgia. You might be under the assumption that my life went to the dogs when my fiance left me at the altar for the home economics teacher, or when I got notice that my apartment building was going to be condemned, or even when I was desperate enough to strip to my unmentionables to earn some extra cash. The truth is that I'm pretty much used to disasters following me around on a daily basis, but I could have gone without finding my principal dead in the parking lot of a seedy gentlemen's club.
After the initial shock of finding my first dead body, which included throwing back shots of Jack Daniels like it was water, I decided to take stock of my life. I was in a desperate situation and if the school board ever found out I'd been a stripper, even a bad stripper, I'd be jobless as well as fiance-less and homeless. Fortunately, I had a friend who felt sorry enough for me to give me a job doing some surveillance work at her detective agency. Not to mention the fact that I was now able to stick my nose into other people's business for a good cause, find a murderer, and pick up helpful tips from an incredibly attractive detective.
My Thoughts :
I can't remember how I came across this book but it was free on Amazon Kindle and I snapped it up after reading the blurbs and a few reviews. Then while looking for something new to listen to on Audible I came across this again but it was at a very reduced price because I already owned the Kindle version. I decided that the chances of me getting around to actually reading this book was slim while I knew I would start listening to it straight away.
My first impressions of the book were not helped by the bad quality of the audio book. Maybe I have been spoilt by the great narrators and great quality of the many other books I have listened to but this one was not up to the standards I have come to enjoy. The narrator sounded older than the character by at least 15 years if not more and her enthusiasm for the story just wasn't coming across. I warmed up to the voice by the end and I think the reader got into the story and characters somewhere along the way. However the whole production was ruined by the sound. It was like the narrator was recording the book in her bathroom or metal container. If I turned down the volume it was hard to notice but when on public transport the low volume isn't very helpful and it was a cringe worthy experience to listen to the book at times.
Despite finding the production of the audio to be quite awful, I did end up enjoying the book. It took a while to get used to Addison but as things progressed and the plot started to open up more it become much more enjoyable. It all reminded me a lot of the Stephanie Plum series by Janet Evanovich but there were any car explosions. There was a good dose of getting into some very silly situations and there is a nice romantic element with a detective to heat things up. A nice combination and a humourous mystery that kept me wondering till the end.
Well worth trying out if you like the type of cozy mystery that is all about mad-cap adventures and laughs. I certainly can't deny that I liked it enough to go download the next episode in the series. Depending on how I am feeling on Monday it maybe the next installment in this series that gets listened to next week.