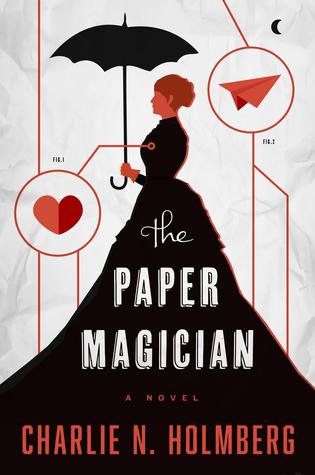 The Blurb :
Ceony Twill arrives at the cottage of Magician Emery Thane with a broken heart. Having graduated at the top of her class from the Tagis Praff School for the Magically Inclined, Ceony is assigned an apprenticeship in paper magic despite her dreams of bespelling metal. And once she's bonded to paper, that will be her only magic…forever.
My Thoughts :
I was intrigued by the cover and blurb for The Paper Magician and I took a chance and decided to give it a try. With the sequel, The Glass Magician, releasing this week (also on my Kindle) I put this one to the top of my to be read pile even though I only got hold of the copy a week or so ago.
My first impressions was very young adult. Unsure of how old Ceony was I imagined she was roughly sixteen. As I read on I started to wonder if she was indeed younger. She sometimes came across as very naive and young. Later however I was surprised to find out she is supposed to be nineteen. Not an age I was expecting and leaving this book to be bordering on the Young Adult genre but also very suitable for adult readers.
Age aside this debut was extremely unusual and strange, in a good way. A very original concept with some very imaginative magic. Set in the early 1900's it was easy to forget that the story was based in the present time. Maybe this is supposed to have a mild Steampunk feel to it and the author didn't build up on it this time around. While on that track of thought there was quite a few things that needed more building up on. It felt like there was a lot of very important information missing regarding the workings of this world and I hope that it will be addressed in the next two books of the trilogy.
While the story was very cute and exciting the change in the relationship between Ceony and the magician was an unwanted turn in the story (from my perspective). Although it was made pretty clear how young the Magician was I still wasn't expecting or wanting a romantic element in the story. Although I may be getting ahead of myself in this respect because the romance hasn't really bloomed completely but it was hinted and somehow assumed towards the end.
Despite the little moans and groans this was a great debut that shows a lot of promise. I have the second book ready to read and although The Paper Magician hasn't left me rushing to read the sequel, I will get to The Glass Magician sometime soon.