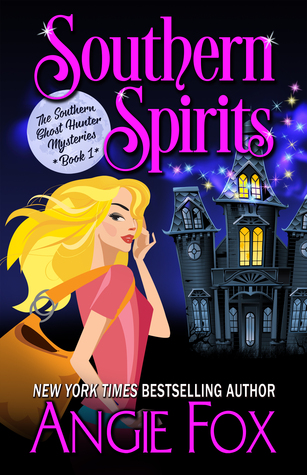 The Blurb :
When out of work graphic designer Verity Long accidentally traps a ghost on her property, she's saddled with more than a supernatural sidekick—she gains the ability see spirits. It leads to an offer she can't refuse from the town's bad boy, the brother of her ex and the last man she should ever partner with.
Ellis Wyatt is in possession of a stunning historic property haunted by some of Sugarland Tennessee's finest former citizens. Only some of them are growing restless—and destructive. He hires Verity put an end to the disturbances. But soon Verity learns there's more to the mysterious estate than floating specters, secret passageways, and hidden rooms.
There's a modern day mystery afoot, one that hinges on a decades-old murder. Verity isn't above questioning the living, or the dead. But can she discover the truth before the killer finds her?
My Thoughts :
At first I was sure this book would suck but when the story got going and things started to unfold I have to say I really enjoyed this one. Cozy mystery with a whole lot of paranormal this is the first installment in the Southern Ghost Hunter Mysteries. Southern Spirits didn't have the Southern feel I am used too. It did have the everyone knows everyone small town feel to it and an obvious gossip mill that keeps news circling. Verity knows this up close and personal because she is the one being gossiped about lately and it is all because she did the right thing.
The mystery took its time to really get going but the lead up was interesting enough to keep me reading. There is some light humour in this one and also a possible romance so if you aren't that cozy you may find that Southern Spirits isn't for you. The characters are nice and the pet skunk shows how quirky this one is trying to be. The plot was good with few twists but for a debut in a new series this one showed real potential.
I would definitely check out more in the series and would love to find out more about the characters involved and see what Verity manges to get mixed up in. Other than that I don't want to say more because the blurb gives away quite a bit and I don't want to spoil the book. What I can say is that this is a nice, quick and spooky read that has all the makings of being a super cozy mystery series. Give it a try!