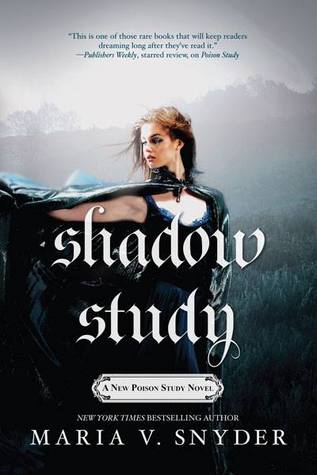 The Blurb :
Once, only her own life hung in the balance.
Oddly enough, when Yelena was a poison taster, her life was simpler. But she'd survived to become a vital part of the balance of power between rival countries Ixia and Sitia. Now she uses her magic to keep the peace in both lands and protect her relationship with Valek.
Suddenly, though, they are beset on all sides by those vying for power through politics and intrigue. Valek's job - and his life - are in danger. As Yelena tries to uncover the scope of these plots, she faces a new challenge: her magic is blocked. She must keep that a secret - or her enemies will discover just how vulnerable she really is - while searching for who or what is responsible for neutralizing her powers.
Yes, the days of tasting poisons were much simpler. And certainly not as dangerous.
My Thoughts :
Your eyes do not deceive you! After all this time Yelena and Valek are back and I couldn't be happier! I am sure all the fans are rejoicing about this comeback or they missed the memo and will be surprised when they come across this new installment. The question is - Does Maria V. Snyder manage a good comeback? The answer is - hell yes!
At first I felt a little lost. Of course I remembered the main points but if I had had the time I would have re-read the previous books before starting Shadow Study. It would have made things easier if my memory was completely refreshed but as it was the author managed to help me along with her short memory jogs. As things progressed I fell back into the wonderful world that Snyder built for this amazing series and once again I found myself being pulled into the magical twists and turns.
I don't want to go into the story too much because I could end up giving something away. What I can tell you is that Shadow Study is the perfect continuation of the series. There is everything and everyone you could wish for plus a few other bits and pieces you will be happy to read about. The story is as original and special as all the books before it so I doubt anyone will be disappointed.
My only regret about this book is figuring out the solution to a major twist/cliffhanger ending very early in the story. So, for me, the cliffhanger didn't pack the punch it should of. I felt a little annoyed at myself more than anything but maybe for others it isn't as obvious. Although it does mean that there will have to be another installment!
Any fan who has read Maria's books will be eager to read this new addition and they shouldn't wait too long to get a copy. The chances of spoilers ruining the book is high and to be honest there isn't any way that anyone who has read the Study and Glass books will be able to stay away from this one for long. Get a copy and snuggle up with it. Take the day off work or phone in sick, this book needs to be read as soon as possible.