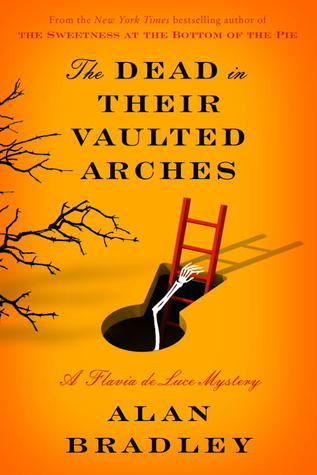 The Blurb :
On a spring morning in 1951, eleven-year-old chemist and aspiring detective Flavia de Luce gathers with her family at the railway station, awaiting the return of her long-lost mother, Harriet. Yet upon the train's arrival in the English village of Bishop's Lacey, Flavia is approached by a tall stranger who whispers a cryptic message into her ear.
Moments later, he is dead, mysteriously pushed under the train by someone in the crowd...
Who was this man, what did his words mean, and why were they intended for Flavia? Back home at Buckshaw, the de Luces' crumbling estate, Flavia puts her sleuthing skills to the test.
Following a trail of clues sparked by the discovery of a reel of film stashed away in the attic, she unravels the deepest secrets of the de Luce clan, involving none other than Winston Churchill himself.
Surrounded by family, friends, and a famous pathologist from the Home Office - and making spectacular use of Harriet's beloved Gypsy Moth plane, Blithe Spirit - Flavia will do anything, even take to the skies, to land a killer.
My Thoughts :
I am addicted to Flavia de Luce but only the audio versions. I am nearly up to date with the series and admit I already used my new Audible credits to download the latest addition to the series.
Installment #6 and there is a certain wow factor to this one that I can't believe anyone saw coming! The Dead and their Vaulted Arches brings a twist to the series that will change the future of Flavia de Luce as well as everyone in Buckshaw and quite possibly Bishop's Lacey. I knew how things would begin despite the cliffhanger ending of the previous book leaving things open. There were other possibilities so it came as no surprise that Harriet had come back home the way she did.
At first I was quite annoyed at the events which left everything rather boring and depressing. There were some new faces and a few interesting developments such as de Luce cousins coming to visit and the appearance of Winston Churchill in Bishop's Lacey but Gladys hardly got mud in her spokes and Flavia was given a very short leash in this book.
Despite the seemingly dull start there was some extremely exciting revelations by the end of this book. The twist this story has made me, if possible, love the series even more. It was obvious that something pretty big would need to happen due to the problems at Buckshaw but everything that came to light in this sixth book made sense and totally changed the dynamic of the series.
I can't wait to listen to book seven. Flavia is a delight to sleuth along with and the narrator does an amazing job bringing her to life. The young lady has some more tales to tell and I am eager to find out what affect her new direction in life will have on her and everyone else. So expect the next book to be read very soon!