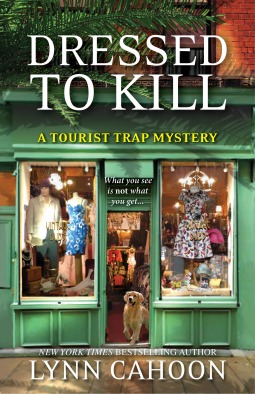 The Blurb :
Jill Gardner—owner of Coffee, Books, and More in the tucked-away town of South Cove, California—is not particularly thrilled to be portraying a twenties flapper for the dinner theater murder mystery. Though it is for charity…
Of course everyone is expecting a "dead" body at the dress rehearsal…but this one isn't acting! It turns out the main suspect is the late actor's conniving girlfriend Sherry…who also happens to be the ex-wife of Jill's main squeeze. Sherry is definitely a master manipulator…but is she a killer? Jill may discover the truth only when the curtain comes up on the final act…and by then, it may be far too late.
My Thoughts :
It is way too hot to do anything here in Vienna. Even too hot to read! However I have managed to concentrate and keep cool enough to read this fourth book in the Tourist Trap Mysteries. I actually planned on reading this book weeks ago before it actually released but as I mentioned before, with the end of the school year comes a lot of work and things have been busy.
Anyway, Dressed to Kill is the fourth and latest installment in the Tourist Trap Mysteries but I have to say from the get go that it wasn't the best of the bunch so far. It was a good read and the ongoing plot saw some development but all in all the mystery wasn't as exciting as the previous books in the series.
I am not sure what made me enjoy this book less than the previous ones but maybe it was a combination of little things. For instance things started off a little confusing. I actually though I had missed a book because things seemed to jump to a whole new shop being opened. Which led to the whole Sherry thing which is seriously getting old. So Jill's guy has an ex-wife who is a royal pain in the backside? Have to say I don't really care about any of it. There was too many characters to keep track of this time around. In fact I am still not sure who 'did it' and why. I lost track of that person and the plot by the end.
The Tourist Trap Mysteries (still unsure on why the books have been given this title) is a great cozy series with a hint of the supernatural hanging around in the air. I like the location and characters but this time around I didn't find them to be as inviting as in the previous books.
Every series has a 'meh' book and I am hoping that Dressed to Kill is that book for this series. I already have a copy of the fifth book and will be reading it as soon as possible. Dressed to Kill hasn't put me off this nice cozy mystery series but it has got me wondering if the author will shine brighter in the next installment.