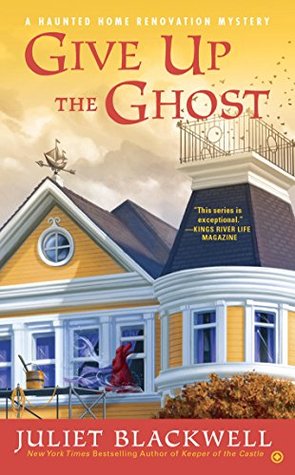 The Blurb :
San Francisco millionaire Andrew Stirling wants to sell his Victorian mansion, but ghostly music, the squeaking of a long-disappeared weathervane, and an angry ghost keep running off potential buyers. After a famous psychic is called in, she informs the Stirlings that their multi-million-dollar renovations to "update" the home have left its resident ghost extremely agitated. So contractor Mel Turner is engaged to track down and replace some of the original features of the house.
But when the beautiful psychic is found stabbed, it appears someone had a very human motive for murder. Now Mel must use her ghost whispering gift to uncover the secrets of the haunted house on the hill, and her sleuthing skills to catch a killer.
My Thoughts :
I took a bit of a reading break over the Christmas holidays because I just didn't have time to read! However I wanted to finish one last book before the New Year started and of course it was nice to see my total books read for 2015 to be a nice round 130. I only challenged myself to 100 so I did very well! Hopefully next year will be just as good!
Anyway, I love this series. A cozy mystery with paranormal elements is always a winner and this series has never disappointed. This sixth installment sees two hauntings being solved and Mel's love life taking a turn. There is also a lovely home involved that includes secret passages and a widow's walk. The author really does know how to keep things interesting.
The mystery was interesting enough and the historical elements as well as the hauntings make this series well worth reading. I enjoy the renovation elements and love the location and characters. There is just so many good aspects of this series to count.
Juliet Blackwell also writes another paranormal cozy series also based in San Francisco and any cozy mystery lover will enjoy both. You don't really have to enjoy the Supernatural to enjoy the books because the style and plot are just good enough as it is.