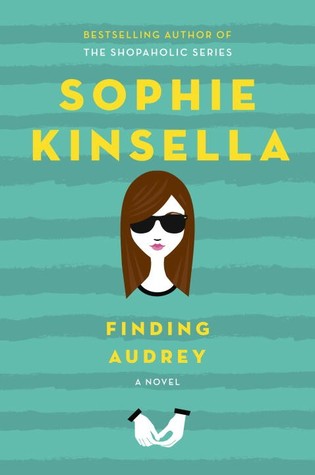 The Blurb :
An anxiety disorder disrupts fourteen-year-old Audrey's daily life. She has been making slow but steady progress with Dr. Sarah, but when Audrey meets Linus, her brother's gaming teammate, she is energized. She connects with him. Audrey can talk through her fears with Linus in a way she's never been able to do with anyone before. As their friendship deepens and her recovery gains momentum, a sweet romantic connection develops, one that helps not just Audrey but also her entire family.
My Thoughts :
Since changing jobs there has been only one or two bad consequences and one is that while I only have a ten minute walk to work, I only have a ten minute walk to work. Which means my audio book listening time has dropped dramatically. I am trying to make up for it but this short book took me two weeks to listen to. But it was a lovely two weeks of listening.
I have enjoyed every Sophie Kinsella book I have read and Finding Audrey is no exception. While this isn't the usual Chick-it Romance that fans will be used to it does have very strong elements of these two genres. However this leans towards Young Adult but deals with very grown-up situations. It is also very amusing and heart-warming while also being an eye-opener and general chance to learn something you wouldn't normally know about unless it has happened to you or someone close to you.
Now I don't know how much research the author put into the topic at hand but it seems like she hit the nail on the head in most aspects. I am not saying that I know everything about it either but what I do know rung true here. However I have to wonder why the author went with a young girl and didn't write this from the perspective of an adult. Bringing awareness for the subject seems to be a huge reason for this book but I wanted more.
I loved Audrey right from the beginning. Her dysfunctional family were realistic and funny. I couldn't wait to see what happened and how things would end. Although I found it annoying that the mystery of what really happened to Audrey was left unanswered. A brave move but one I am sure upset some readers. After getting to know Audrey so well and her letting us see everything it felt like she was keeping her biggest secret from us.
A wonderful read and a great listen. I didn't really like the mother, father and brother having different narrators sometimes and then other times they had the main narrator. It put me off at times and didn't really change the story or the impact it made.
Well worth checking out. Don't be put off by anything, the subject matter, the YA, the fact it isn't something you wouldn't read, nothing....just try it and enjoy it.