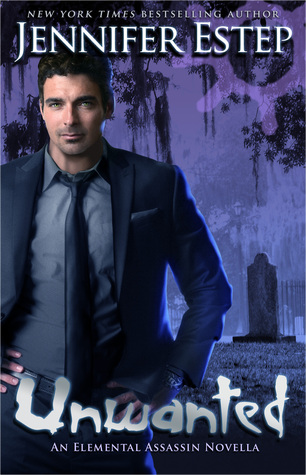 The Blurb :
The fallout from his disastrous "family reunion" in Bitter Bite has left Finn feeling hurt, angry, and depressed. He can barely stand to look at himself in the mirror, much less eat any of the delicious barbecue from Gin's famed Pork Pit restaurant.
But when the funeral for a slain security guard at his bank turns into a showdown with some nasty underworld giants, Finn knows that he must act in order to protect an innocent family.
Finnegan Lane might be the most unwanted man in Ashland these days, but he's determined to try to make amends for his past mistakes...
My Thoughts :
Unwanted is a novella set in the Elemental Assassin series and is told from Finn's perspective. This short story picks up things from where Bitter Bite ended and releases in July. Due to the wait for everyone else to read this I won't go into too many plot details. I don't want to spoil anything!
What really stood out in this novella is that Jennifer Estep is a great storyteller. After the events in Bitter Bite we would have usually just moved on to the next full length book with Gin taking the reins as always. However here we have a wonderful, if somewhat slightly depressing, short story about how Finn is dealing with everything he went through. This is a delight for readers of the series and offers a chance to see how Finn is coping.
It takes a great author to write a short story that doesn't feel rushed or low on details and Jennifer Estep manages this without a doubt. There is good balance of information in Unwanted and there of course there is a good plot. I was hooked from the moment I started reading and the story progressed at a nice and steady pace with the emotions and mystery building up until the very end. Then just when you think things are over there is a nice little twist in the tale.
Any fans of the series will love Unwanted even if it is a little bleak at times. It is a pleasure to read about Finn from his perspective but he isn't his usual happy go lucky self that readers of the series will be used to. However there is all the usual action and excitement there with a nice interesting continuation of the story.
Well worth reading and definitely a must read for anyone following the series. Missing this short story most likely won't make a difference in the whole scheme of things but it definitely has some interesting tidbits that will surely come up in the next full length Elemental Assassin's book. A quick read to curl up on a nice day this Summer.