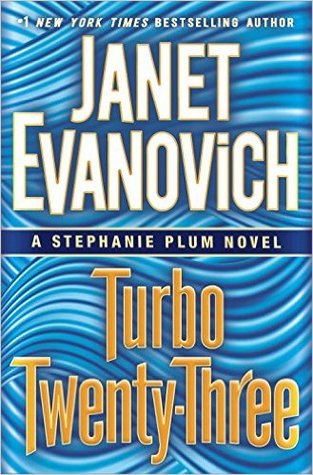 The Blurb :
Larry Virgil skipped out on his latest court date after he was arrested for hijacking an eighteen-wheeler full of premium bourbon. Fortunately for bounty hunter Stephanie Plum, Larry is just stupid enough to attempt almost the exact same crime again. Only this time he flees the scene, leaving behind a freezer truck loaded with Bogart ice cream and a dead body—frozen solid and covered in chocolate and chopped pecans.
As fate would have it, Stephanie's mentor and occasional employer, Ranger, needs her to go undercover at the Bogart factory to find out who's putting their employees on ice and sabotaging the business. It's going to be hard for Stephanie to keep her hands off all that ice cream, and even harder for her to keep her hands off Ranger. It's also going to be hard to explain to Trenton's hottest cop, Joe Morelli, why she is spending late nights with Ranger, late nights with Lula and Randy Briggs—who are naked and afraid—and late nights keeping tabs on Grandma Mazur and her new fella. Stephanie Plum has a lot on her plate, but for a girl who claims to have "virtually no marketable skills," these are the kinds of sweet assignments she does best.
My Thoughts :
It has been way too quiet around here and I apologise. I won't bore you with the details but will just say that life got in the way and there hasn't been much reading going on. It hasn't been from lack of trying though and when I realised the new Stephanie Plum book was out I got an Audible copy and started it straight away. Finished it quickly and then didn't get around to coming here until today to write about it!
So another Stephanie Plum! Twenty-Three books in and sometimes you have to admit it feels like deja vu. Stephanie goes out to get a bail skip, finds a dead body, gets sucked into the investigation and finally after madness and mayhem she solves the whole thing. Insert Morelli and Ranger problems and sex, include some craziness from Lula and Grandma Mazur then wait for the typical jokes, wit and sarcasm. It sounds monotonous but to tell you the truth I love each and every installment as much as the last.
Stephanie never ceases to amaze me. She gets into some really unbelievable and funny predicaments while making some very stupid decisions but there are always laughs and the plot keeps you hooked. Despite following more or less the same pattern, each book manages to stand out and be different in some way. Even though the whole Morelli vs. Ranger angle is one of the things you finally want solved, you know that it would be extremely boring it that chemistry and indecision was gone.
Kudos to Evanovich for another Plum success. I only wish that they would come out more often. After all they don't seem like much and I sure she could get out two or three a year. Maybe that would ruin things but I just want more of the funniest and most relaxing series there is out there. I love visiting Trenton and catching up with the crazy characters. I could do with more of this getaway in my life.
If you have the chance make sure to check out the audio version of the books. Lorelei King, the best audio book narrator there is, lends her voice to this series and she does it as well as she does to all the others she brings to life. She is amazing.