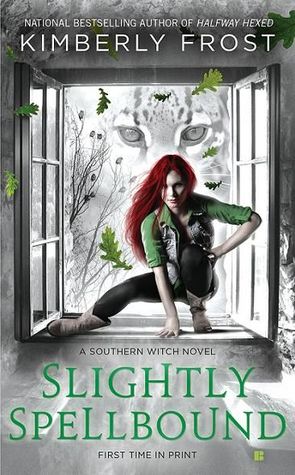 The Blurb :
With two kinds of magick at odds inside her and two gorgeous men vying for her attention, Tammy Jo Trask is used to being pulled in opposite directions. But in the latest Southern Witch novel she'll have to make some serious decisions—like how she intends to stay alive.
Tammy Jo's romance with the wizard Bryn Lyons is on hold while her ex-husband is in town trying to remind her of the good old days. Choosing between them isn't easy, and it doesn't help that a skeletal creature is spying on her, a faery knight is hunting her, and she just made friends with Evangeline Rhodes—a rich witch who thinks her own family is trying to kill her.
When Evangeline disappears under suspicious circumstances, Tammy Jo is determined to find out what happened. As she uncovers a secret more dangerous—and personal—than she could have imagined, she also discovers that, in both love and magic, you can't stay neutral forever.
My Thoughts :
The Southern Witch Series had been a favourite of mine but with no new release since 2011 I though this was one I wasn't going to see again. So my joy and elation at seeing book four being released was pretty big and I was pre-ordering Slightly Spellbound as soon as it was possible. I couldn't wait to catch up with Tammy Jo again and really wanted to have some time with Mercuito!
After the long gap between books I really could have done with a bigger memory jog as far as everything was concerned. The author did her best to fill in the gaps but I felt like I was drowning a little at the beginning. I instantly felt at ease with Tammy but the whole love triangle thing was a little murky and the family situation didn't really come back to me straight away. Also the previous magical history was lost on me. I had forgotten all about Tammy being half fae and wasn't sure what the amulet was that everyone kept mentioning. It didn't ruin the experience though and I found myself enjoying Tammy's mad-cap magical escapades.
The plot was slightly slow to begin with and I wondered where things were going. Tammy wondered as well and I was happy that she was as much in the dark as I was because there was lots going on but no real connection. It all came together in the end but it made the story drag on. The book felt a lot longer than it really was and there was lots of information to process as things progressed.
A few new characters joined the cast and I liked them once I found out who they were and why they were suddenly popping up. I look forward to seeing what happens in regards to all of them when the fifth installment comes out next year. The characters I have know since the series started were like old friends and it was good to catch up with them. I also look forward to having some more adventures with them. Especially Tammy's aunt who I am sure will get into even more trouble now.
A great story and a nice new installment in the series. I enjoy so many things about this unique series and Tammy's Ocelot familiar is just one of them. Her baking makes me hungry and wish for some recipes and the romance doesn't take over the story too much. Things are fun even when they are bad and the paranormal elements are different and unusual each time.
If you haven't already tried this series then make sure you give it a go someday. It has some bite but it is also very witty and cozy. The author has managed to impress me again and this series stays on my must read and pre-order list.
↑ Grab this Headline Animator