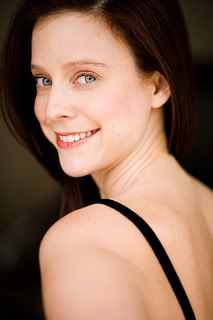 Author
Stacey Jay
has been a guest on Amberkatze's Book Blog not
once
but
twice
! So when I heard she had a new book coming out I invited her back to the blog. However she was a little busy and suggested I interview Karen, after all it is her story being told in Stacey's new book.
Karen is a freshman at Dead High and is very excited about her first book coming out.
MY SO CALLED DEATH
is about Karen's death and first adventure as a zombie. She is working together with Stacey Jay to get more of her adventures in print. I hope you enjoy getting to know her and take the time to read her book!
Oh and Karen is kindly giving away a copy! So make sure you enter this weeks contest!
-----------------------------
Amber - Welcome to Amberkatze's Book Blog! It is great to have you here as a guest! Could you start things off by introducing yourself to my readers?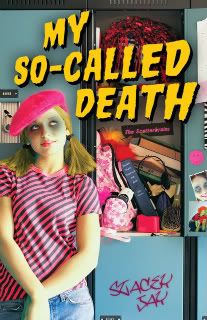 Karen -Hey! Thanks for having me! Well, I'm a freshman at DEAD High--a high school for Death Challenged kids (aka zombies). I'm also a former flier for my human school's cheer leading squad, and an up-and-coming solver of major crimes against the Undead.
Amber - You recently became a zombie. How are you feeling about that whole life changing experience?
Karen -The dark circles are a pain, I'm not going to lie, but make-up has come a long way in the past decade. There are tons of excellent concealers and creme blushes that help give Undead skin a healthy glow. Other than that, my life has been pretty much the same. Except for the brain-eating (animal brains only!) and the boarding school and the hideous school uniforms, of course.
Amber - You are now at Dead High? What is the difference between Dead High and a normal High school?
Karen -We have a lot of zombie-specific classes, like "Make-up Secrets of Morticians" and "Zombie Poetry." There is a LOT of zombie poetry. Something about being Undead brings out the angst in people, I guess. And brains are the only food offered in our cafeteria. I don't know if I'll ever get used to that. I miss chicken-fried-steak like you wouldn't believe.

Amber - What made you decide to get your story published in the book 'MY SO CALLED DEATH'?
Karen -I figured it was time someone told the truth about what it was like to be Undead. I'm so sick of all the movies with the moaning, groaning, shuffling zombie stereotypes. Being a zombie is nothing like that. As long as we remember to eat our animal brains, we feel and act almost like normal people. Except...deader.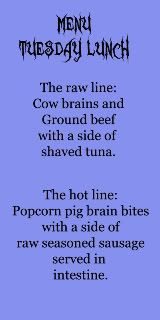 Amber - What was it like working with the author Stacey Jay? Did you two always get along? Or did you sometimes have problems when it comes to putting your words on paper?
Karen -Stacey Jay was pretty cool to work with. She's old--like thirty-two or something--which was kind of a pain because she would act like my mom and tell me to finish my homework before we IM-ed anymore, but she's basically solid. She told my story truthfully and didn't pull any punches with the gross stuff. I like that. I think it's a common misconception that girls who like sparkles and unicorns and happy ever afters can't also enjoy a story featuring zombies and giant, flesh-eating maggots.
Amber - What is next? Do you have more stories to tell? Will Stacey be helping you?
Karen - I'm currently on probation at school for the first book--violating the super secret zombie code and all that--but I'm working to convince the Powers That Be that the DEAD high story needs to be told. I'm dying to spill all the new gossip so...we'll see!
Amber - If you could go back in time and change one thing that happened in your life, what would you change?
Karen - I would eat more chocolate. Like, TONS more chocolate. Zombies can't eat chocolate; it messes with our digestion. Chocolate is probably what I miss most about being alive, though I wouldn't change being Undead. I'm pretty happy as a zombie.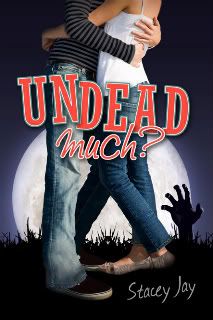 Amber - How do you relax? Do you have any hobbies?
Karen - My friends and I do spa nights at the dorm and give each other mani-pedis and oatmeal facials--oatmeal is great for dead skin. I find that very relaxing. And my hobbies include fighting crime and solving murders. (I had to find something as exciting as cheerleading since cheering is considered a high-risk activity for the Undead and forbidden at DEAD High.)
Amber - What kind of music do you like listening to? Are there any zombie bands?
Karen -There are TONS of zombie bands, some of them even well-known in the human world since stagelights are kind to Undead flesh. Two of my favorites are The Resurrectionists and the Scatterbrains.
Amber - What books do you enjoy reading? Do you have any favourite authors/series?
Karen - I like reading non-fiction and true-crime stories. I want to be an FBI agent or something when I'm older, so I figure I'd better get used to invading the sick and twisting hallways of the crimial mind.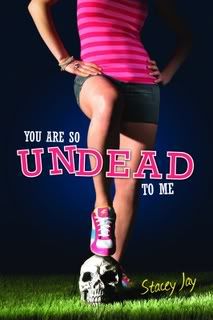 Amber - What TV series or films are you hooked on at the moment?
Karen - I'm hooked on watching reruns of the Alias series. My roomate and I ordered it from Netflix. I love the action and intrigue! I totally want to be a zombie Sydney Bristow.
Amber - I know you are already a zombie, but if you could be any other paranormal creature, what would you be and why?
Karen - A unicorn. I love sparkly, pretty things and you could seriously mess up some bad guys with that horn.
Amber - Thank you for visiting Amberkatze's Book Blog! I hope you will come back for another visit in the future!
Karen-I'd love to! Thanks for having me! Hope your reader's enjoy the book!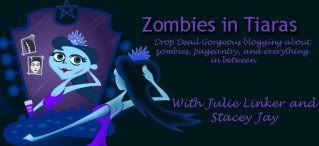 Zombies in Tiara's
-------------------------
Contest Time
This week there is a copy of MY SO CALLED DEATH up for grabs as the contest prize. Stacey will ship anywhere in the United States, Canada, or Europe so I think the majority of you guys can enter ;)
How to enter
I wanna hear about your favourite zombies! Film, book or TV Series! what zombies do you like?
No zombie - no entry
Earn more entries for each place you link this contest on the net. You can post on Facebook, Twitter & MySpace but make sure you add links here for me to confirm your entries!
You can also earn extra entries by emailing your friends about the contest. Just make sure you send a copy of your email or receipt to me at Amberkatzes_book_blog at gmx dot net.
Make sure you post your links here so I can confirm your entries.
Keep the contests going by using the Amazon links below and around the site!
The contest will stay open until Sunday 28th of March 2010 4pm CET and the winner will be picked by a randomizer. Entrants should check back to see if they have won. I do not hunt down winners and will pick new winners for any prizes not claimed within 7 days.
Good Luck!